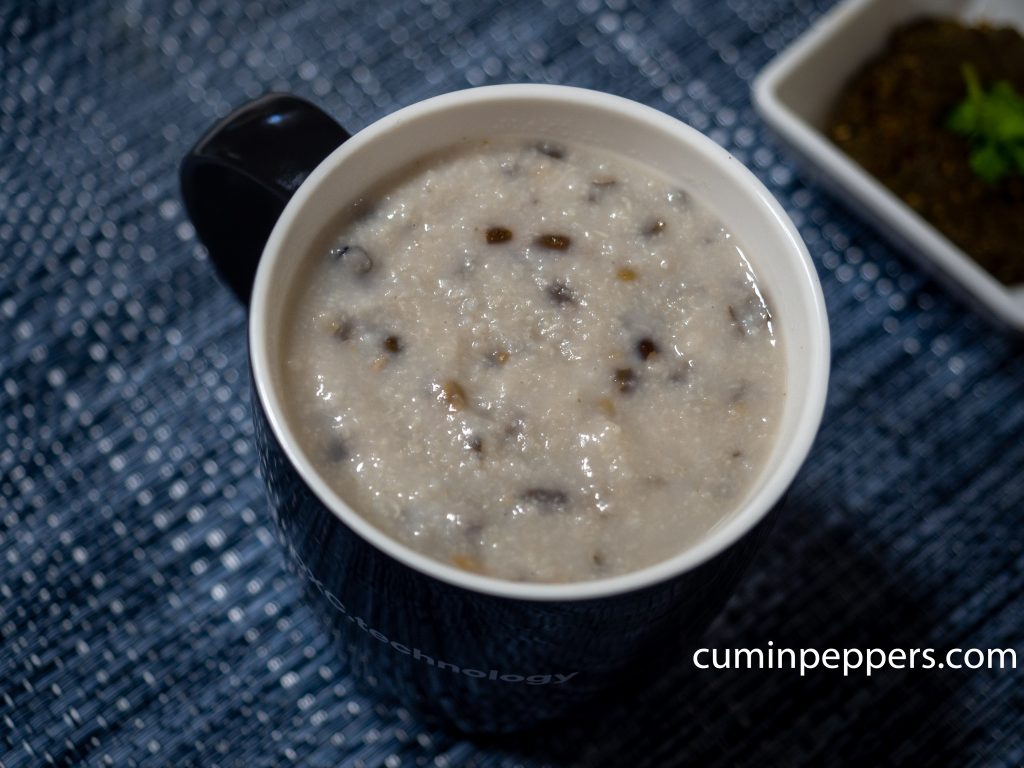 Urad dhal porridge/ Ullundhu Kanji is a very healthy food, All must have it once in a while. It was a breakfast food served in olden days. As the years pass by, we are forgetting some foods no matter how nutritious it is. There are two types of Urad dhal porridge that are sweet and salty. Here I presented the salty version of porridge. Particularly this food is given as breakfast for the girls at the time of puberty as it has a lot of calcium and protein that will strengthen bones, muscles also the nerves system, moreover this was given to the pregnant ladies too, so imagine how healthy it is.
Health benefits: Urad dhal is good for heart, prevents kidney stones, manages diabetes, improves digestion, also good for skin and hair too.
In this fast phase world, it is simple and easy to make food without a doubt, contains more health benefits; definitely, we can use it for breakfast.
Alternatives: Here I have used coconut milk for dilution of the porridge; you can use buttermilk/ beaten curd instead. Both taste good and different as well
You can even use rice instead of millet
Things not to be skipped: Don't forget to add dry ginger powder(sukku)
Ingredients:
Urad dhal – 1/2 cup
Barnyard millet ( kuthiraivali) – 1/2 cup
Fenugreek seeds – 1/4 tsp
Garlic – 5 cloves
Water – 2 cups
Dry ginger powder – 1/2 tsp
Coconut milk – 1 to 11/2 cup
Salt to taste
Cook with care
Preparation method:
1. Firstly wash and soak the millet for about 15 minutes
2. Dry roast urad dhal for about five minutes in low to medium flame
3. Wash the urad dhal
4. In pressure cooker, add millet, urad dhal, garlic and 2 cups of water. Pressure cook for 2 whistles
5. After pressure releases, mash the cooked dhal and millet slightly with ladle.
6. Add enough salt, 1/2 tsp of dry ginger powder, coconut milk and mix well
Now the urad dhal millet porridge is ready
Stepwise Picture Recipe: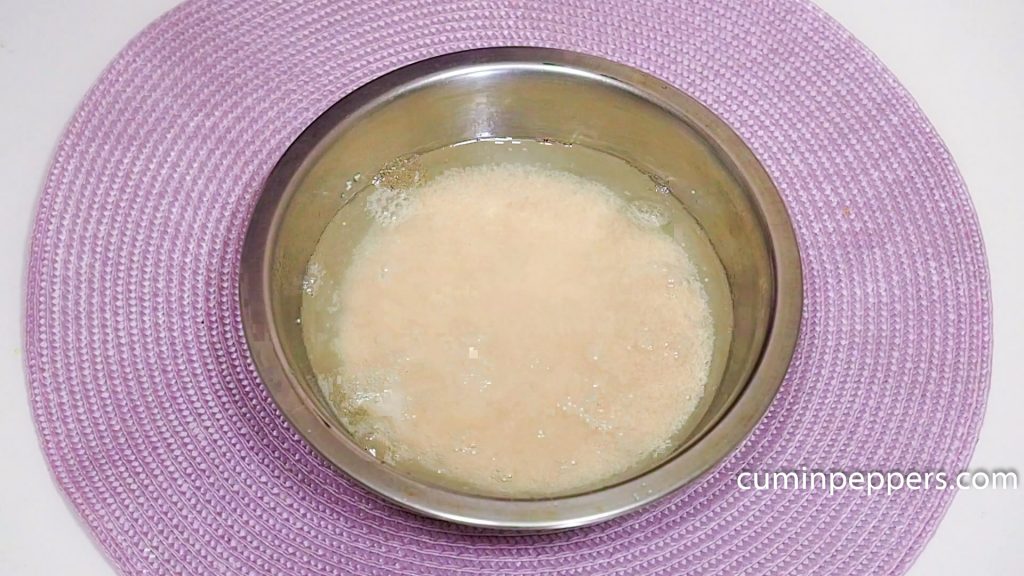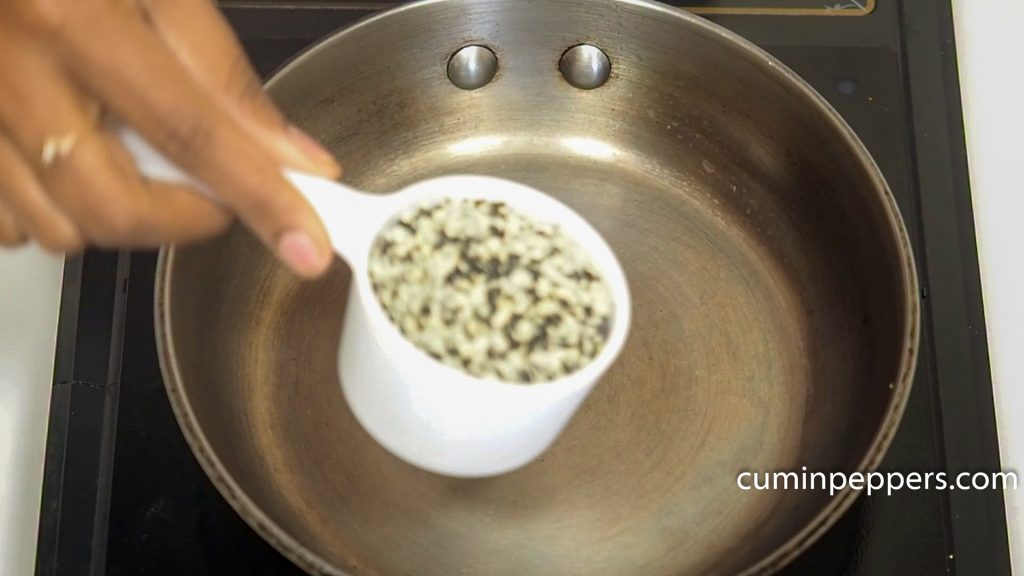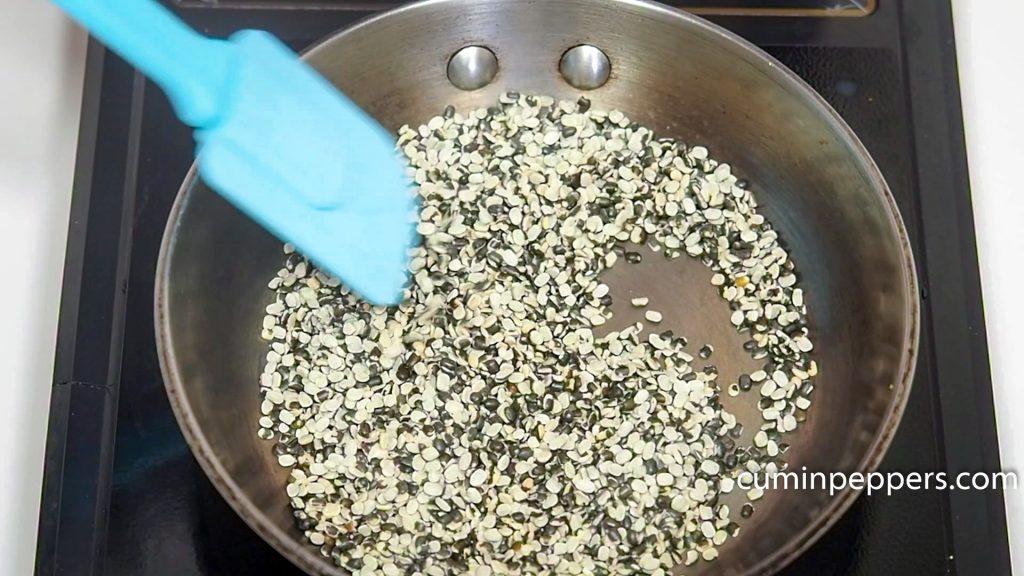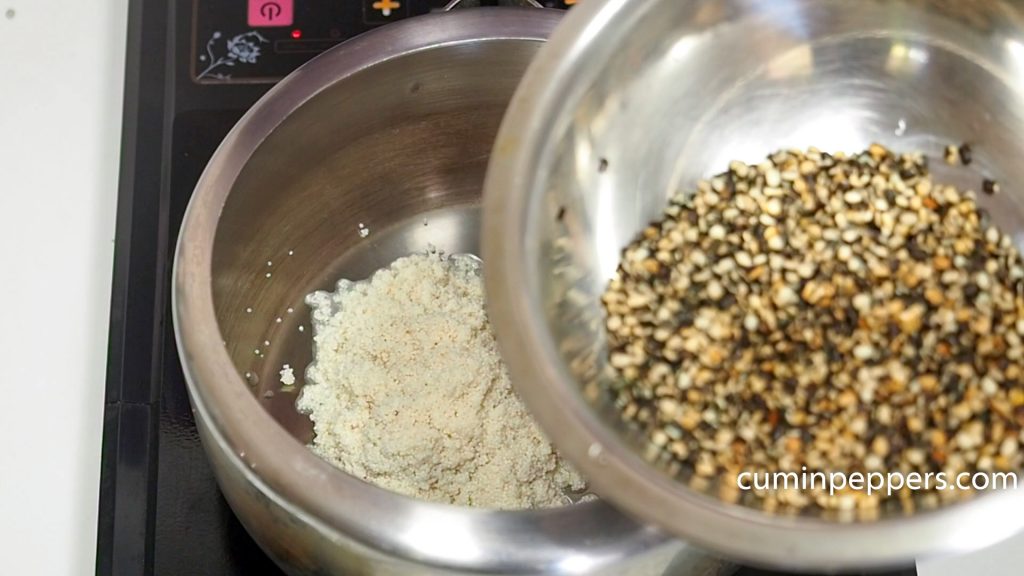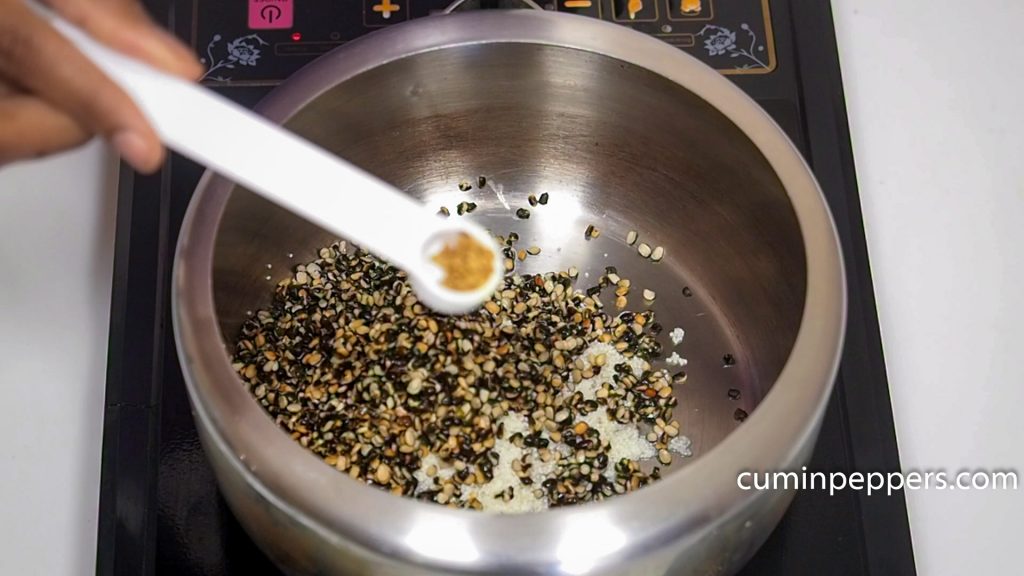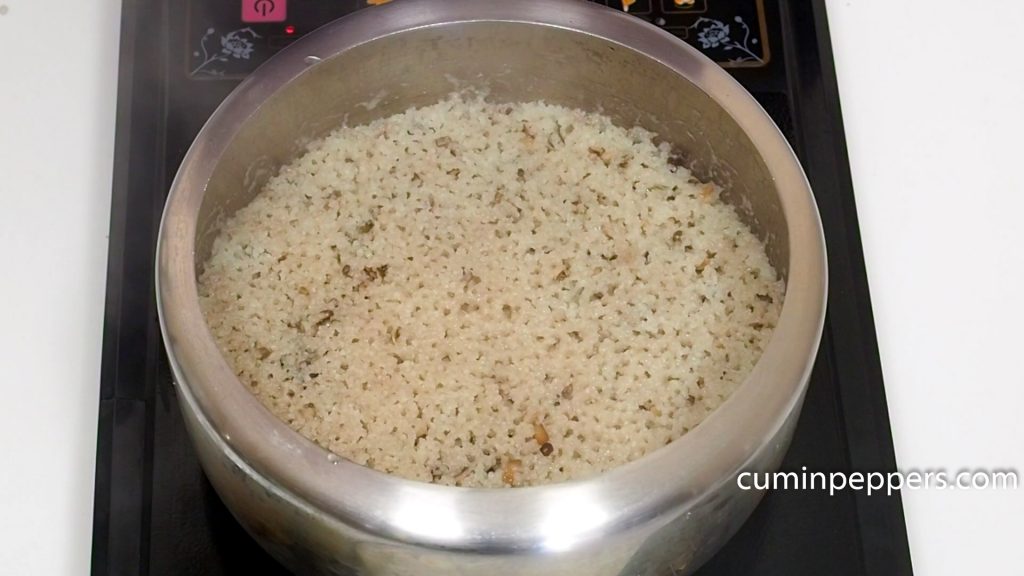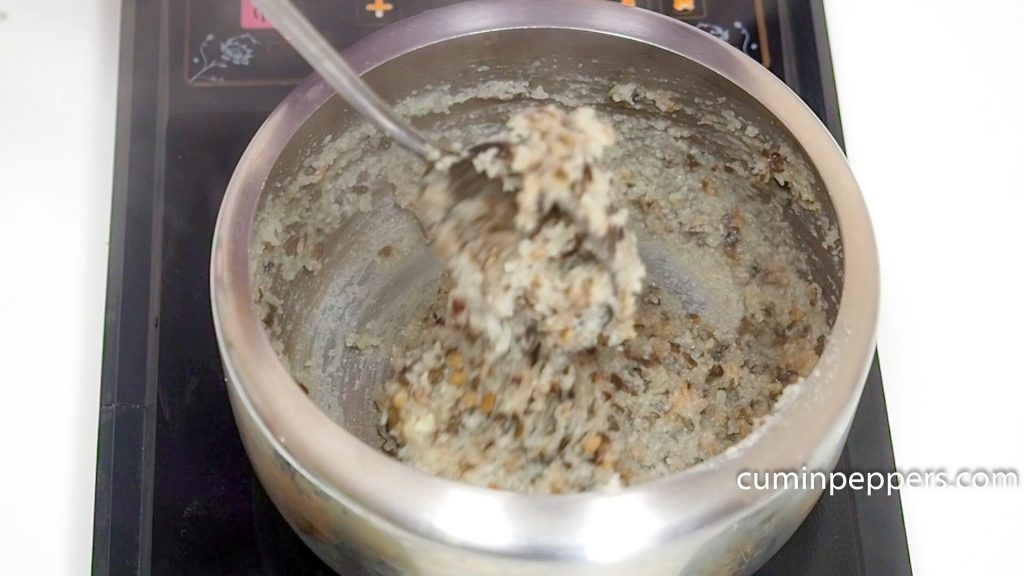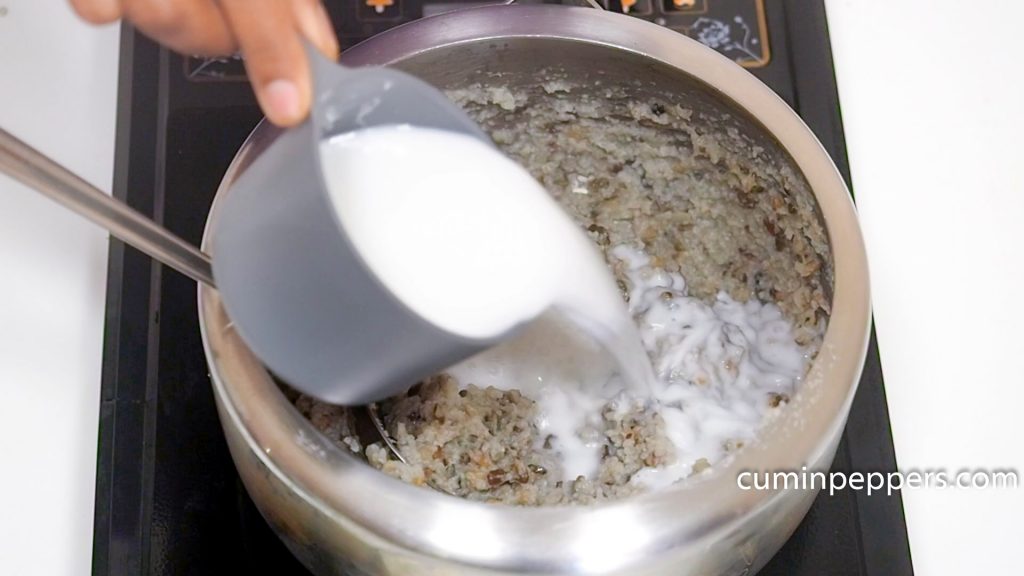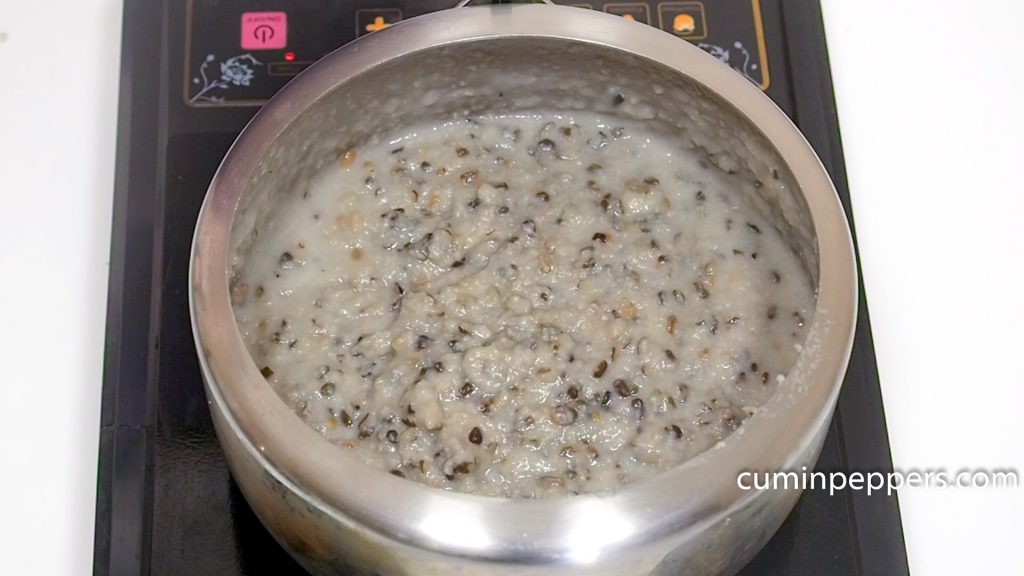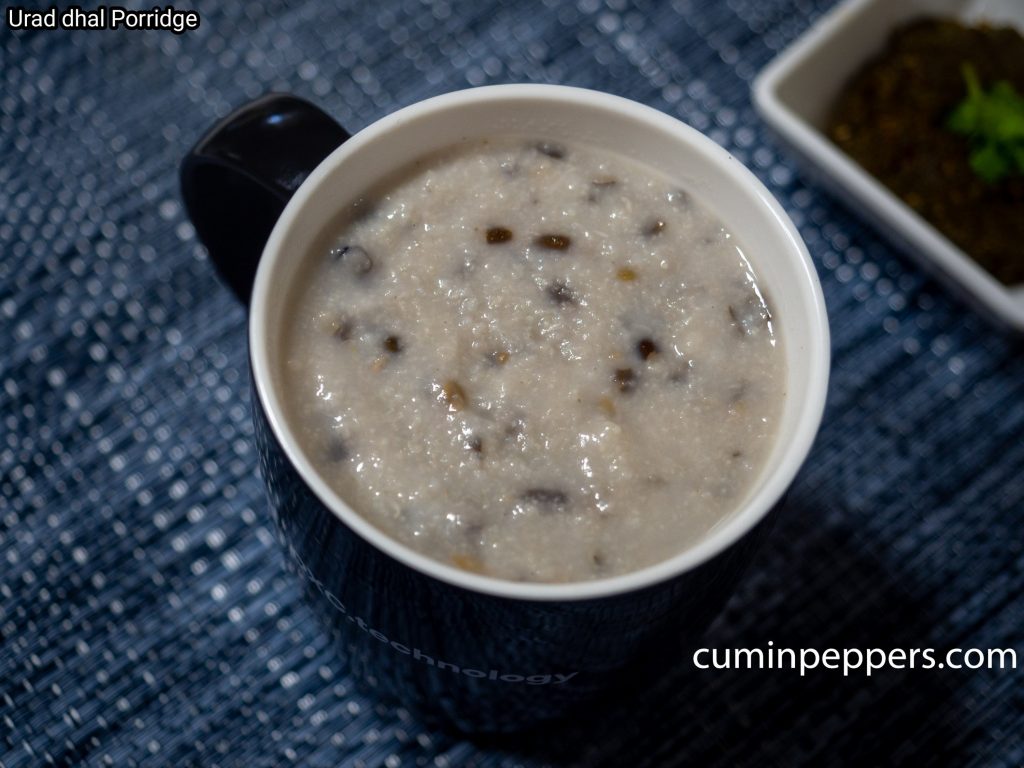 Check out the kothamalli thuvayal recipe that would be perfect side dish for this porridge
Serve with love
Note:
This porridge mixed with coconut milk would be good when you have it in hot
In summer season, mix up buttermilk and little bit salt, that would be even more delicious
Without adding coconut milk or curd, you can even use it with dhal or keerai masiyal too
Moreover, Mint thuvayal/ coriander thuvayal/ pickle would be nice side dish for this porridge