brinjal fry | eggplant fry Tasty and healthy Brinjal fry, here I have presented with easy steps, To make this Brinjal fry as keto (paleo food) food, I made this dish using coconut oil. When you look at the nutrients of Brinjal, it is low carb vegetable, rich in dietary fibre, Undoubtedly, It would be a perfect side dish for all types of rice especially curd rice (yoghurt rice)
For the people who following keto diet, cucumber raita and this Brinjal fry makes good ketogenic food and it can be taken as a whole food in lunch
Alternatives:
You can chop the Brinjal/ eggplant vertically too, make sure it shouldn't be too thin
You can use some other varieties of Brinjal, if it is tender baby Brinjal, that would be easy to cook
Let's see how to make brinjal fry | eggplant fry
Cuisine: Indian
Course: side dish
Preparation time: 10 minutes
Cooking time: 10 minutes
Serves : 3
Ingredients:
Eggplant / Brinjal – 1 (big size) / 250 gm
Coriander powder – 1 and 1/2 tbsp
Kashmiri Red chilli powder – 1 tbsp ( less spice)
Turmeric powder – 1/2 tsp
Pepper powder – 1/2 tsp
Salt to taste
Coconut oil /oil – 4 to 5 tbsp (for shallow fry)
Curry leaves few
Cook with care
Preparation method:
1. Firstly, Chop the Brinjal into a circular shape or any shape of your choice, it mustn't be thin. It should be 3/4 inch
2. In a plate, mix coriander powder, chilli powder, turmeric powder, pepper powder, salt.
3. Add one tsp coconut oil and mix
4. 2 tbsp of water in the spice mixture, make into paste
5. Marinate this spice paste in chopped Brinjal
6. Let it be marinated for 15 minutes
7. After 15 min, in a pan, add oil, curry leaves
8. Add the marinated Brinjal one by one
9. Shallow fry in medium flame
10. after 2 minutes, Flip into other side of Brinjal to fry
Now the Brinjal fry is ready.
Stepwise Picture Recipe: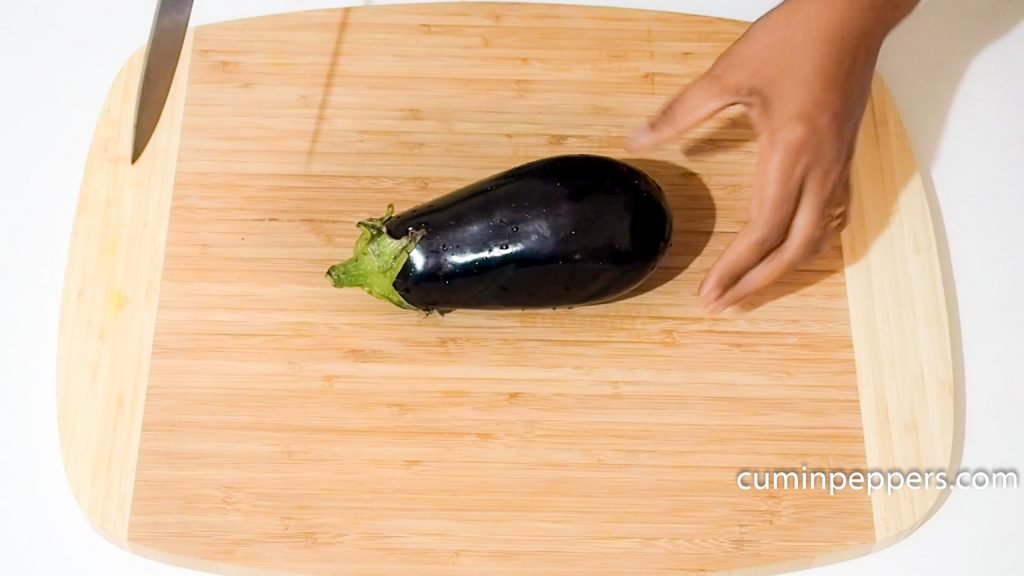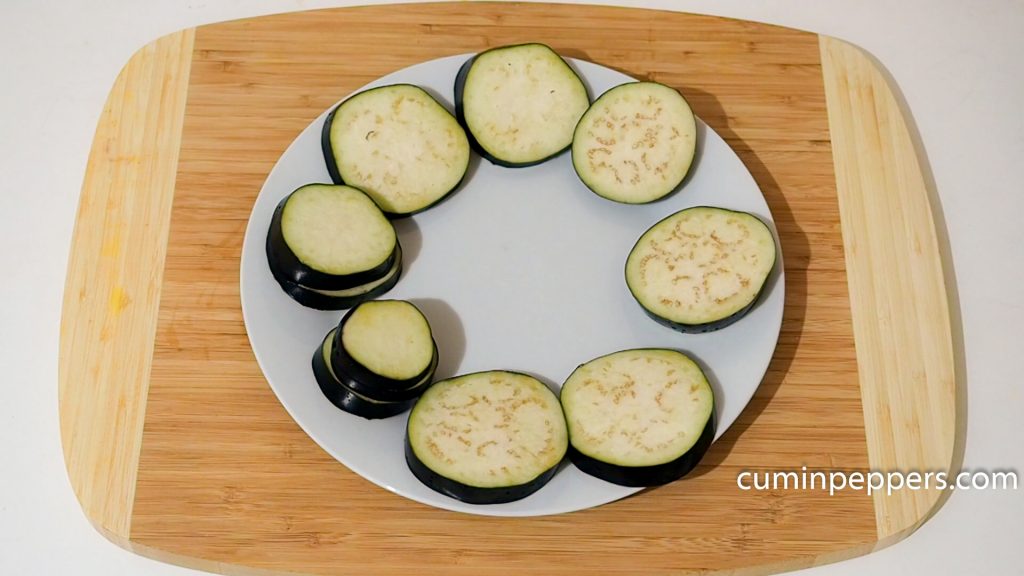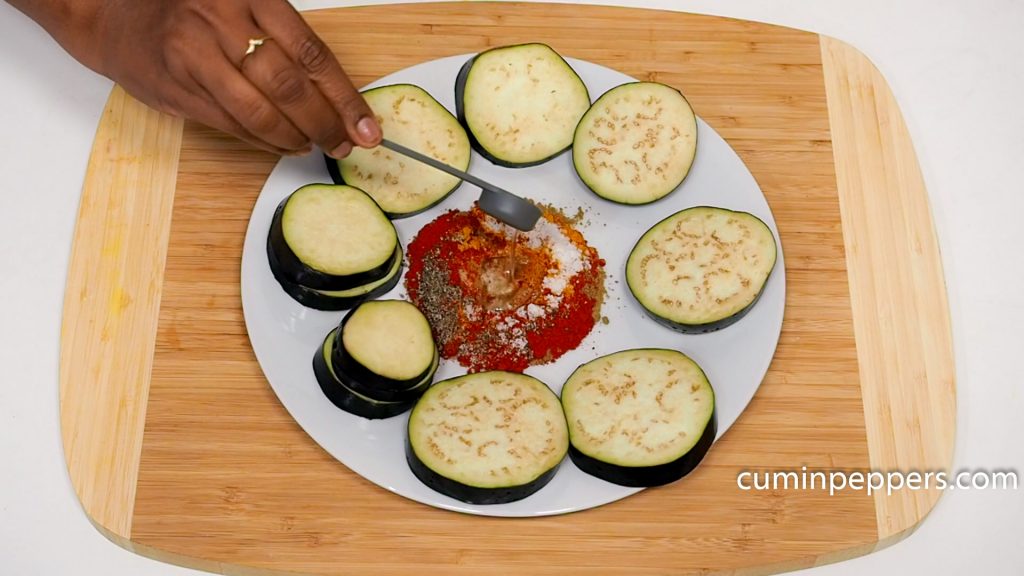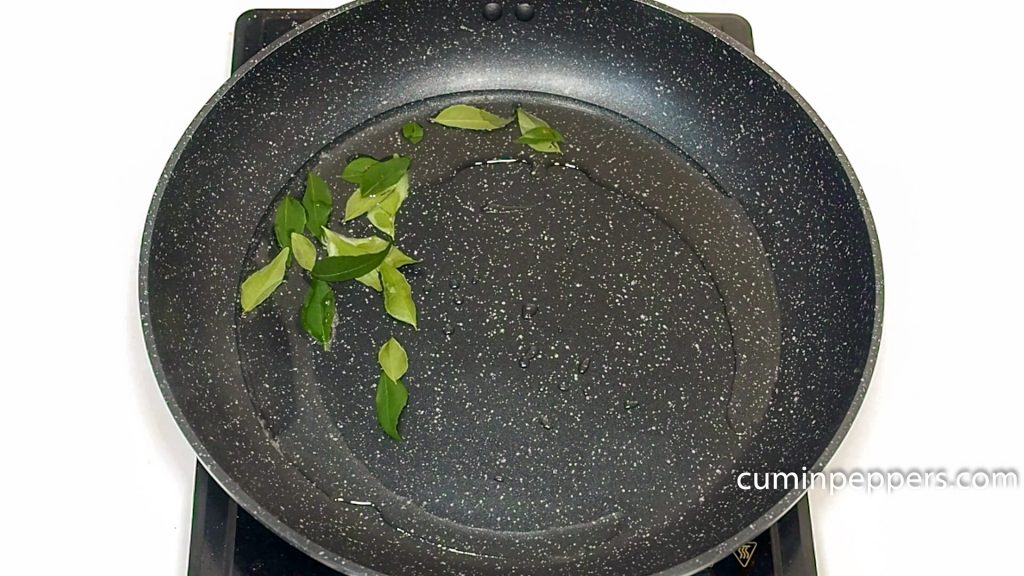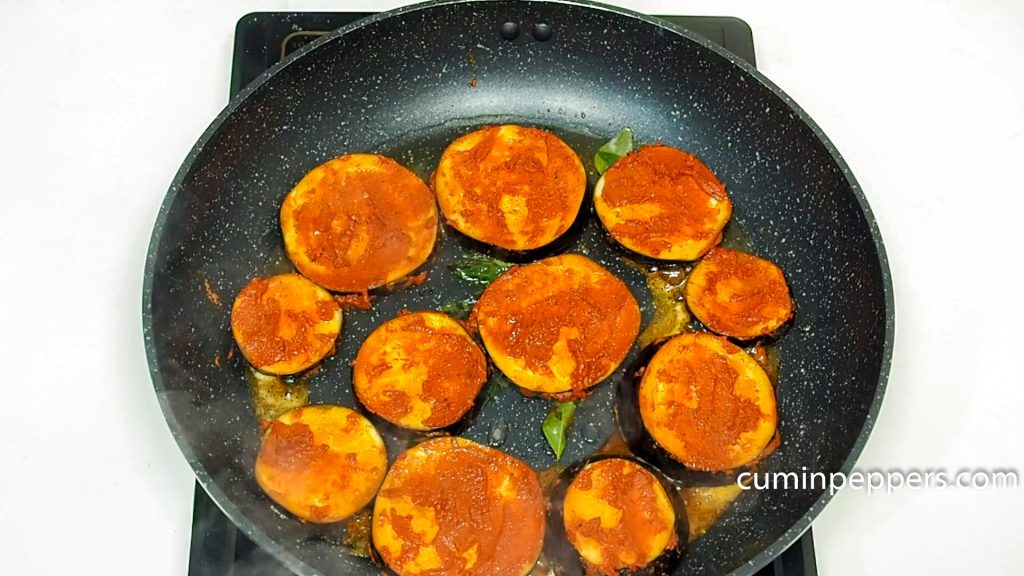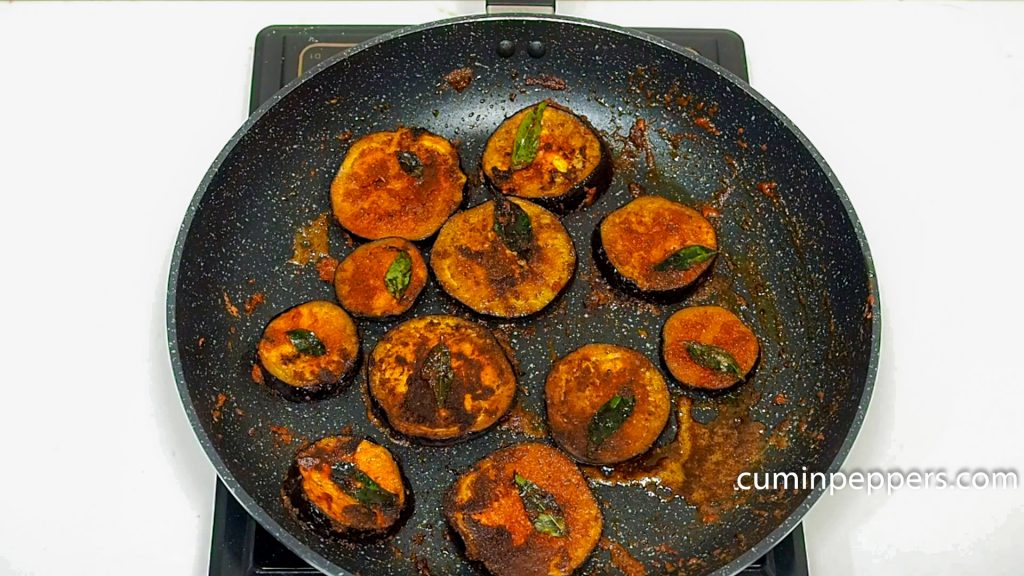 Now the brinjal fry is ready.
Serve with love
Note:
if you have got this variety of brinjal (aubergine), it will get cook easily within 10 minutes, if you want to cook other variety in this method as same way as that, especially buy tender/ baby brinjal, that would be well and good
Follow us on