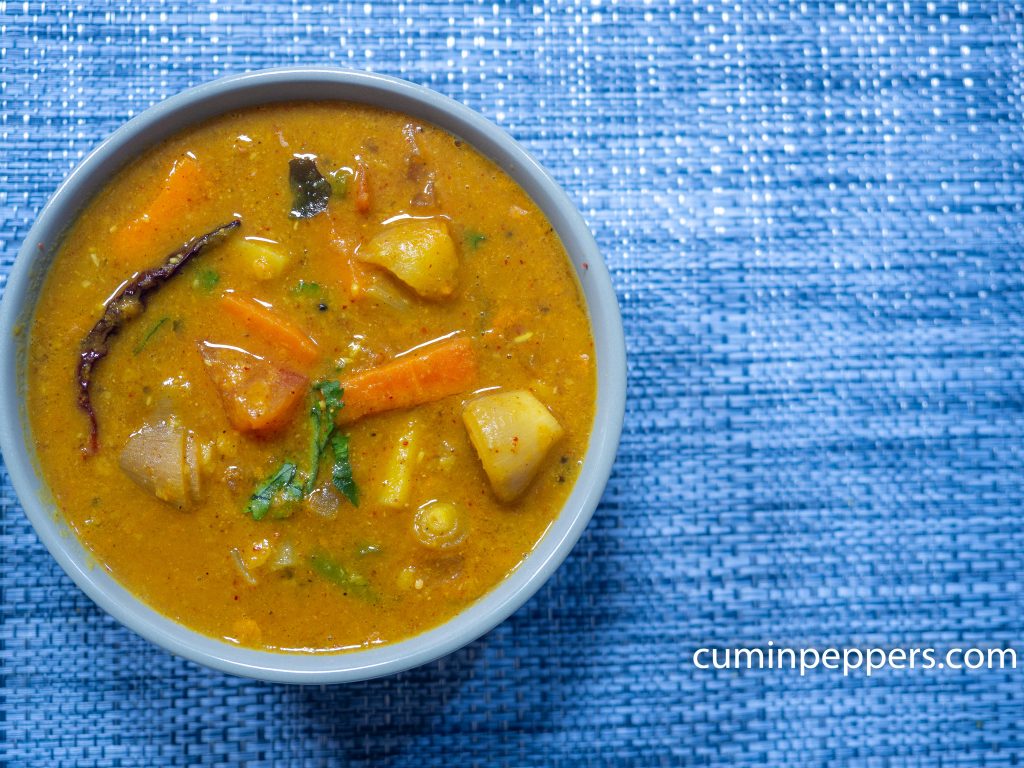 Tiffin Sambar – One of the delicious sambar in all other sambar variety. The taste of this sambar makes you to have more idli or dosa, this (Tiffin Sambar)sambar will have mixed vegetables if you have it in hotels like potato, drumstick, carrot, beans, eggplant, etc. When you prepare at home you can add as many varieties of veggies as you like, but moderate the number of vegetables you add, accordance with the quantity of dhal.
So you can use 1 cup to 1 1/2 cup of vegetables of your choice.

Dhal must be well cooked and mashed before adding into the sambar. To cook mashy dhal, soak it in hot water for 10 min before pressure cook.

Let us see how to make Tiffin Sambar.


Preparation time: 10 minutes
cooking time: 15 minutes
serves: 4

Ingredients:
For cooking dhal:
Thor dhal – 1/2 cup
garlic cloves – 4
castor oil – 1/4 tsp
turmeric powder – 1/4 tsp
Water – 2 cups
For making Tiffin Sambar:

Oil or ghee – 1 1/2 tbsp

mustard – 1/2 tsp

fenugreek seeds – 1/4 tsp

cumin – 1/2 tsp

urad dhal – 1/2 tsp

red chilly – 1

curry leaves few
asafoetida – 1/4 tsp
shallots/ small onion – 10

carrot – 1

beans – 10 number
Brinjal/ eggplant – 4

potato – 1 (medium size)

tamarind extract – 1/4 cup

coriander leaves few

salt to taste


Ingredients for Tiffin Sambar Powder:

Channa dhal – 1/2 tbsp

urad dhal – 1 tbsp

coriander seeds – 2 tbsp

Kashmiri red chilly – 2

red chilly – 1

cumin – 1 tsp

pepper – 1/2 tsp

fenugreek seeds – 1/2 tsp





Preparation Method for Tiffin Sambar:

Pressure cooking dhal
1. To begin with, wash the dhal, drain the water, take this in the pressure cooker with garlic, turmeric, 1/2 tsp of castor oil. Add in water, pressure cook for 6 whistles in medium flame.
Making sambar powder
2. Heat 1 tsp of oil, add 1/2 tbsp of Channa dhal, 1 tbsp of urad dhal, 2 tbsp of coriander seeds, chili, 1 tsp of cumin, 1/2 tsp of pepper, 1/2 tsp of fenugreek seeds. Saute it for 5 minutes in medium flame.
3. Let this mixture to cool
4. transfer the mixture into a blender jar, make a fine powder and keep aside
To make Tiffin Sambar:
5. In a pan, add the oil, mustard, fenugreek seeds, cumin, urad dhal, red chilly, curry leaves, asafoetida one by one in this order.

6. Add in onion, saute for two minutes.

7. Put the veggies one by one and saute for 5 minutes, add salt and turmeric powder.

8. Add tamarind extract, add little water cover and cook it for 10 minutes to boil the vegetables ( if you add drumstick it takes extra minutes to cook)

9. Now add dhal and sambar powder, mix well

10. Pour 2 1/2 cups of water, give it a mix thoroughly

11. bring into a boil nicely

12. Add the coriander leaves for garnish

Now the Tiffin Sambar is ready.
Stepwise Picture Recipe for Tiffin Sambar: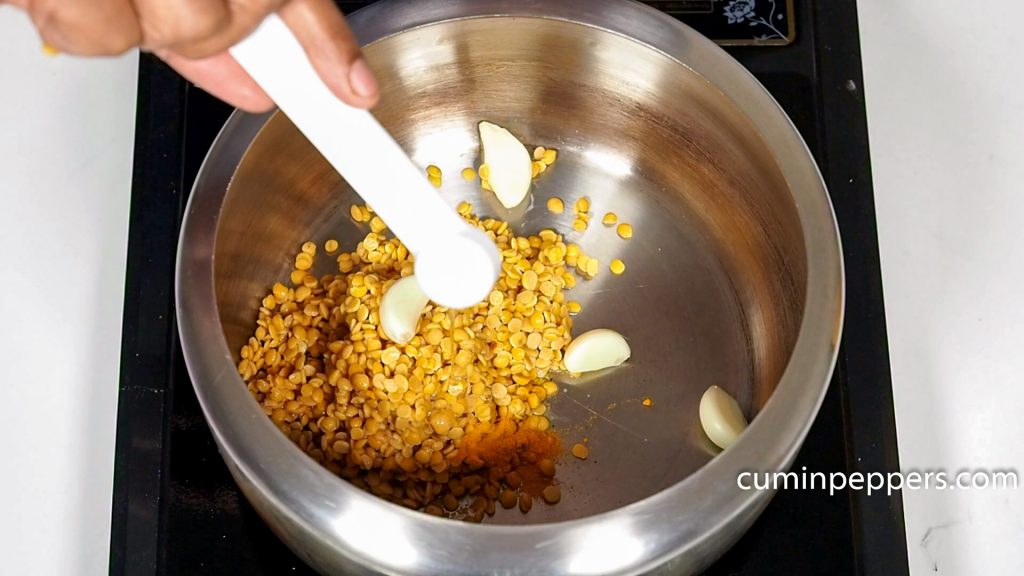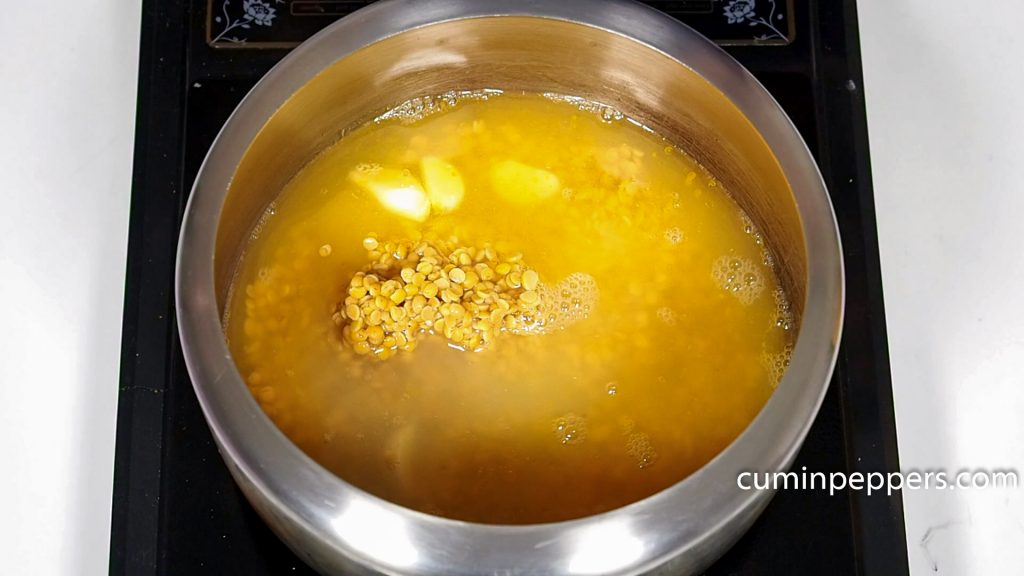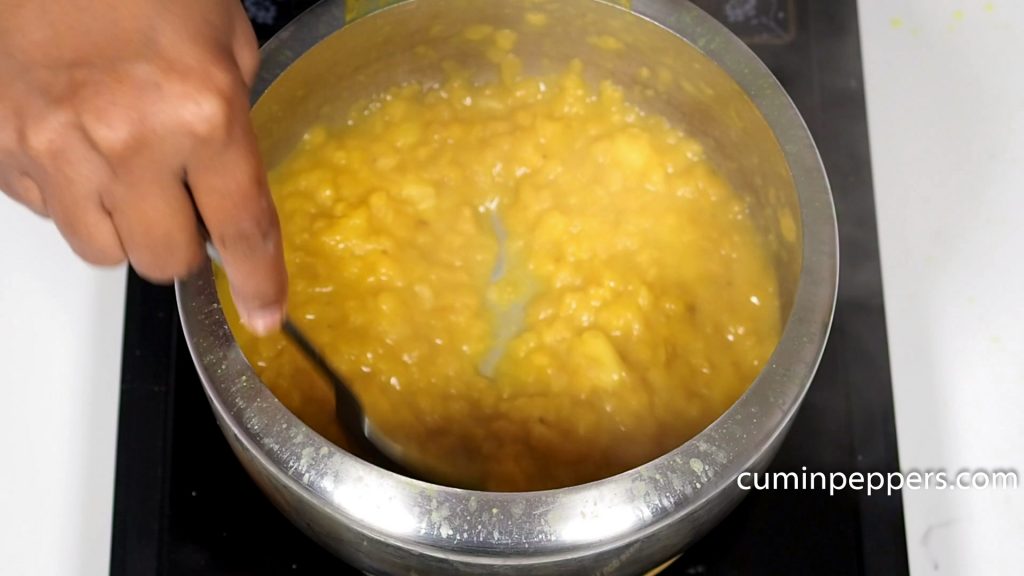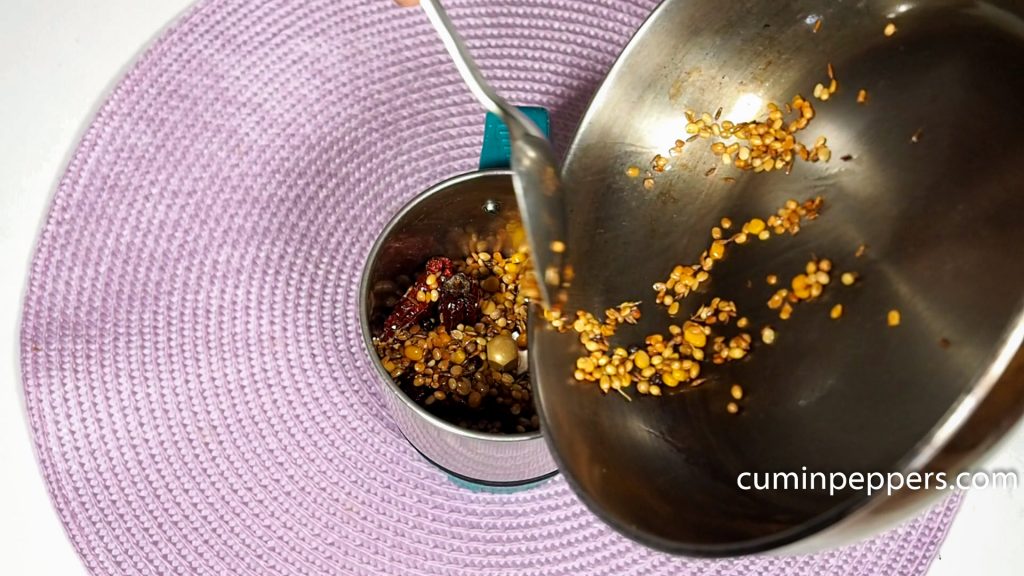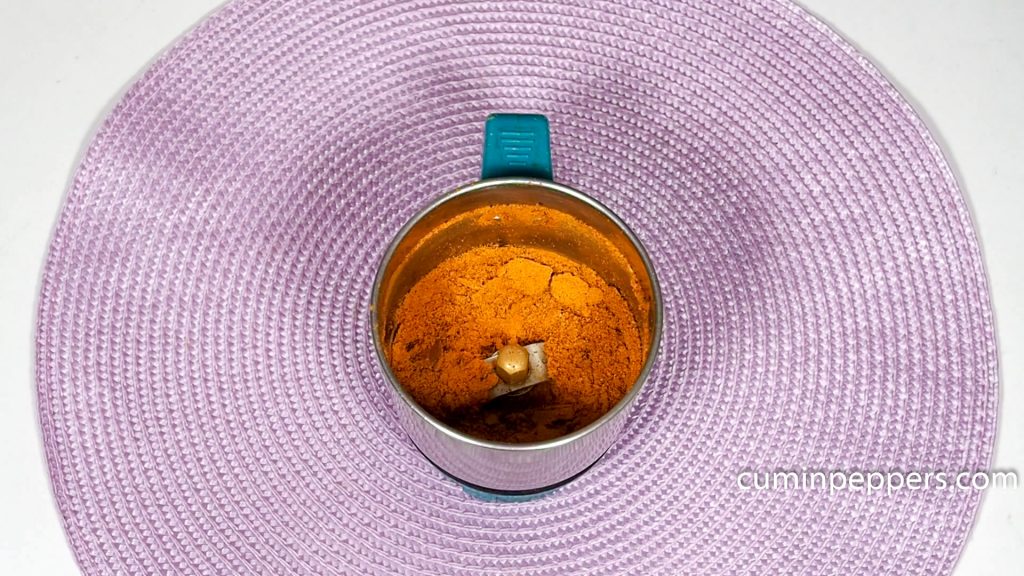 To make sambar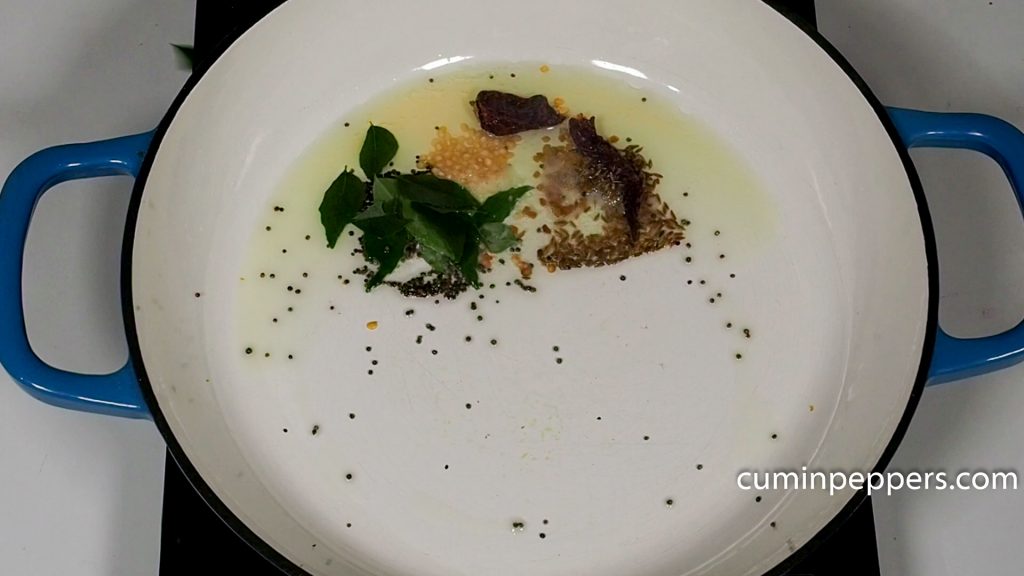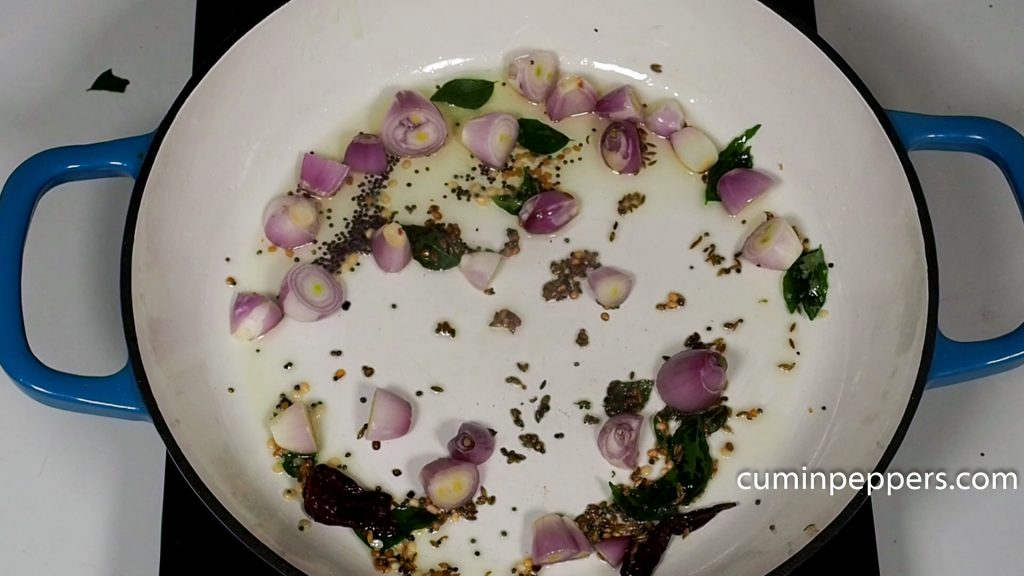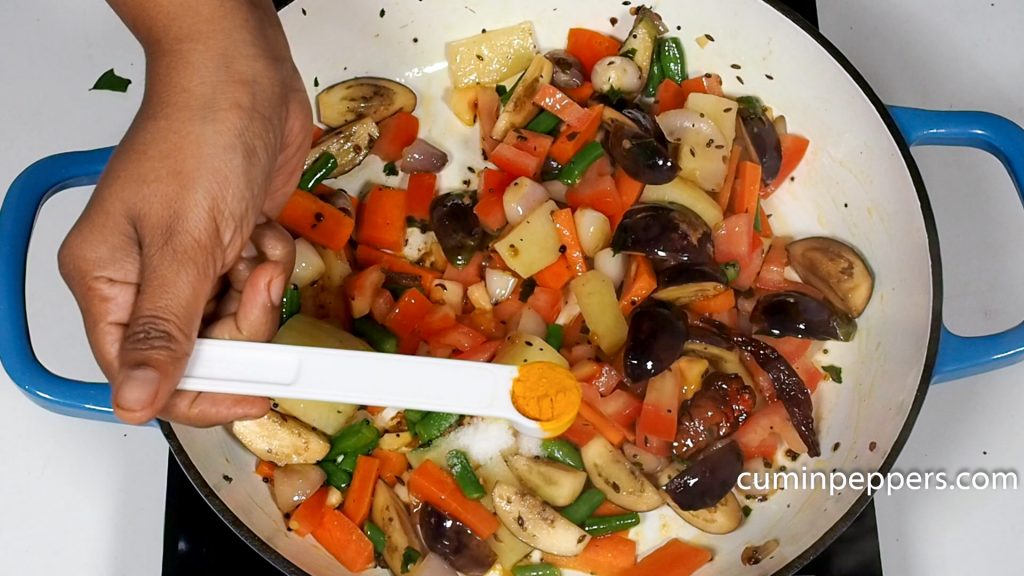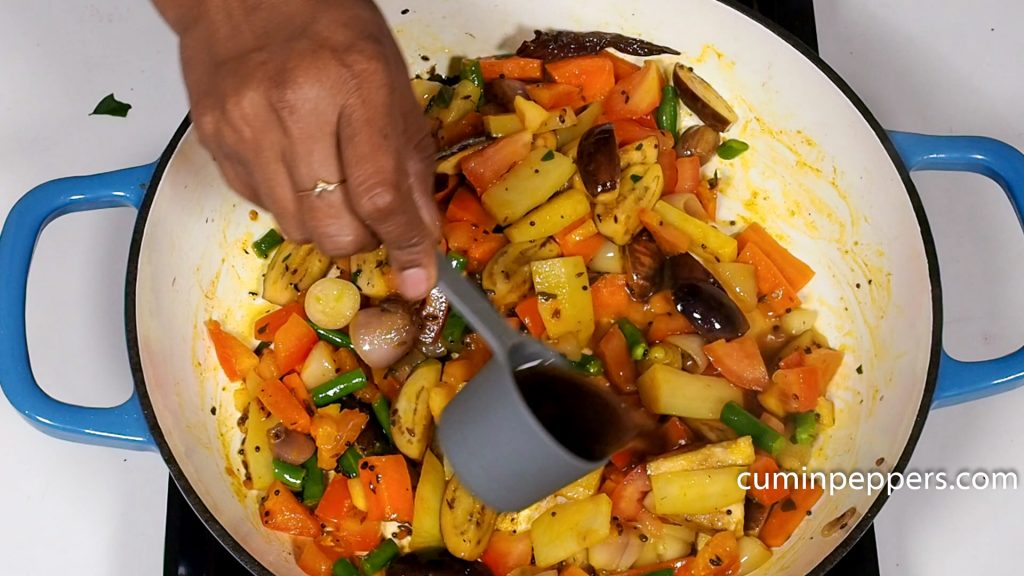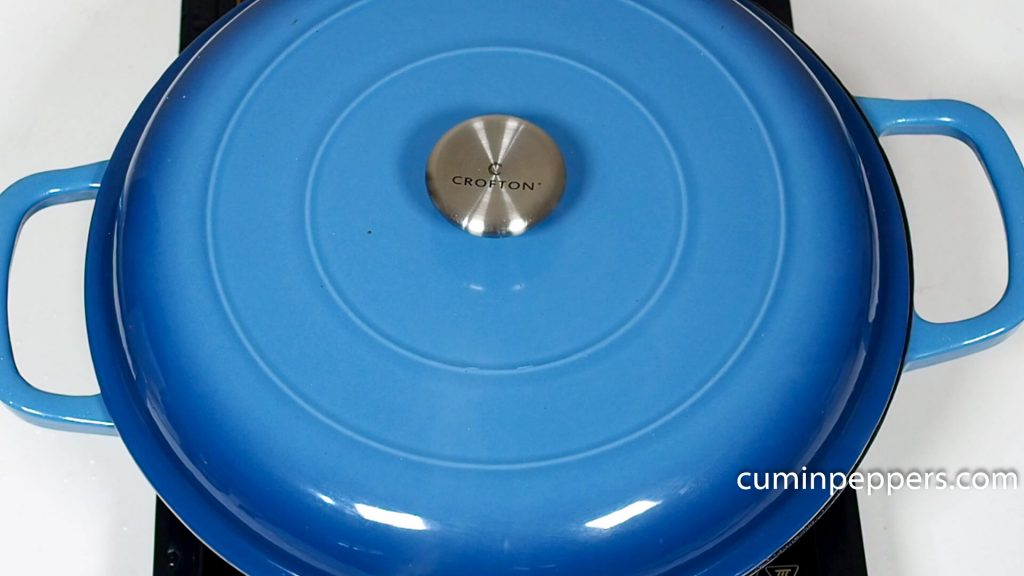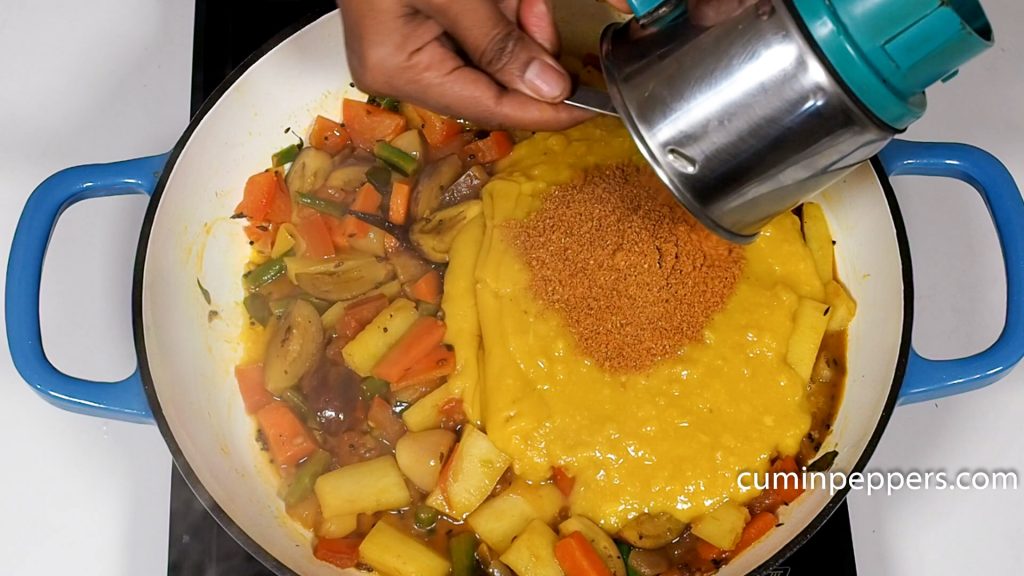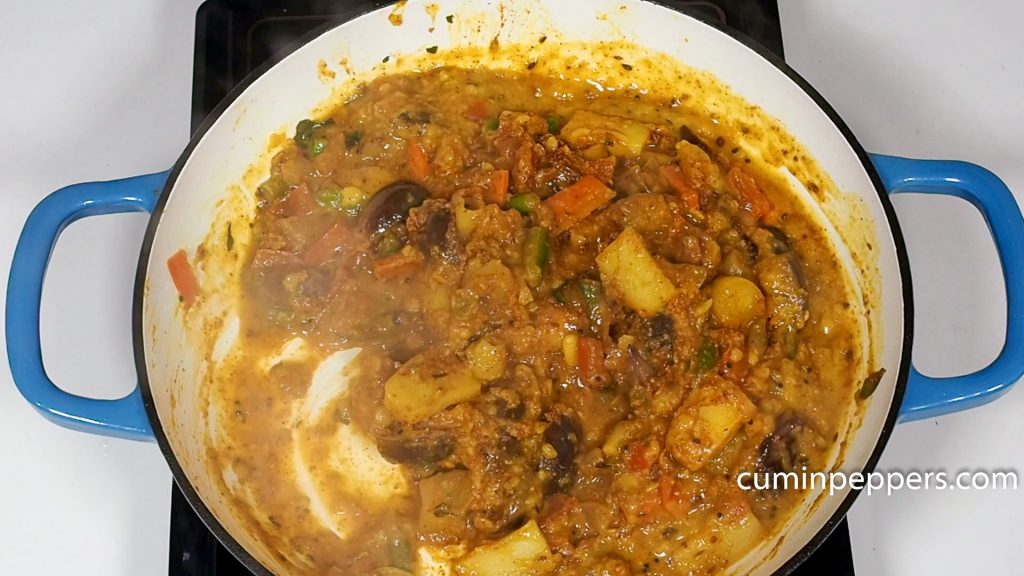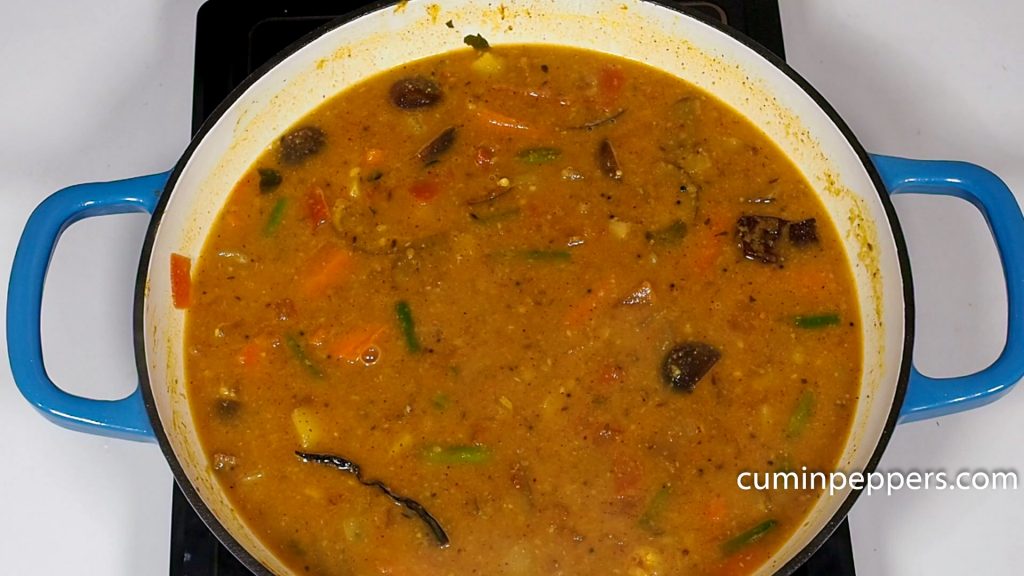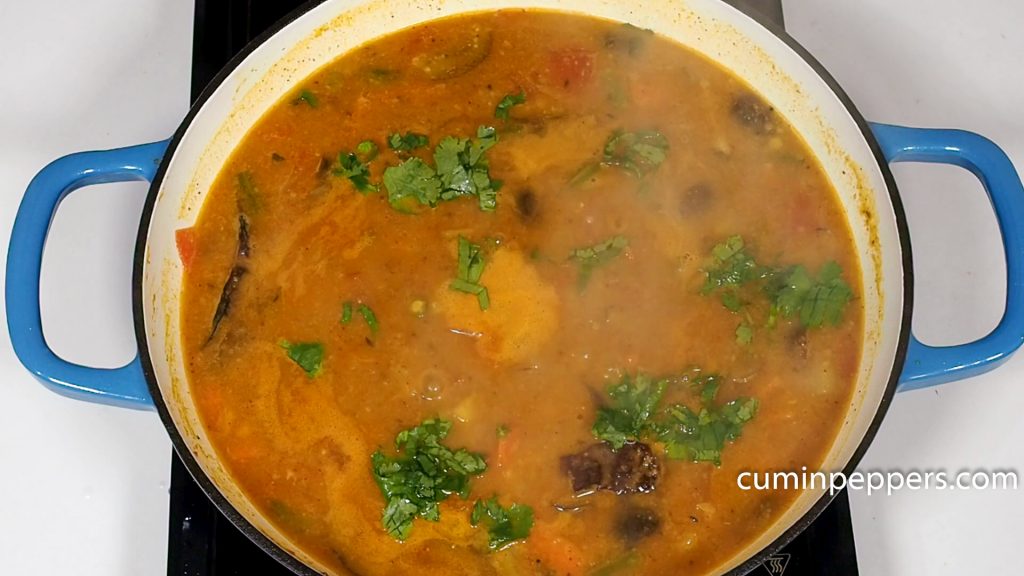 Now the Tiffin Sambar is ready to serve
Furthermore, This tiffin sambar would be a good side dish for idli, dosa, ven Pongal, Rava kichadi, and even with rice, it would taste good.
Along with Tiffin Sambar recipe Also, check out,
Rava kichadi