Jump to Recipe
paruppu | dal Dhal recipe of Tamilnadu. Dhal, rice with ghee is the favorite food of toddlers, kids, as well as Adults. Making dhal is an easy job. Within 25 minutes we can prepare the dhal with fewer ingredients. This dhal recipe (paruppu | dhal) is a combination of dhal with onion, green chilly, tomato, cumin and, pepper. To prepare dhal, we can use ghee, coconut oil, or sesame oil. Use a dash of ghee with rice while serving this (paruppu | dhal) dal.
Using Oil: for this recipe, you can use ghee, coconut oil, groundnut oil, or sesame oil, In this recipe (paruppu | dhal) I have used sesame oil
cooking dal:
Cooking dal smooth and mushy is the key factor to get the dal really good. here are some tips to get the dal soft
It is important to cook the dal smooth to make this curry. Usually, thor dal takes longer time to cook. So pressure cook it for 7 whistles in the medium flame will help to get smooth textured dal.
Adding 1/4 tsp of castor oil with thor dal while pressure cooking will give nice mushy dal, in case of lack of castor oil, we can use oil or ghee. But castor oil gives the best result.
soaking dal in hot water before pressure cooking also makes the dal cook soft. (following these tips help you to cook the dal smooth for making paruppu | dhal)
Adding coriander leaves:
Adding a considerable amount of coriander leaves gives a good flavor to this dal. Here I have added 1/4 cup of chopped coriander leaves at the end
Let us see how to make paruppu | dhal
paruppu | dhal
Ingredients
For pressure cooking dhal:
1

cup

Toor dhal

1

onion (chopped)

3

garlic cloves

2

green chilly (chopped)

½

tsp

turmeric powder

½

tsp

ghee

3

cup

water
For seasoning:
¼

cup

coriander leaves (chopped)

1

tbsp

sesame oil

½

tsp

mustard seeds

½

tsp

urad dhal

½

tsp

cumin seeds

¼

tsp

pepper

1

garlic (crushed)

1

Kashmiri Red chilly

few

curry leaves

a

pinch

Asafoetida
Instructions
For pressure cooking dhal:
Firstly, rinse the dhal twice, drain off the water completely

Secondly, In a pressure cooker, add in dhal, chopped onion, chopped tomato, chopped garlic, turmeric powder and, ghee

Thirdly, Pour 3 cups of water, mix well

cover with the lid, pressure cook the dal for 7 whistles in medium flame

After pressure releases, open the lid, stir it with lid

Add the required quantity of salt

Finally, Add ¼ cup of coriander leaves, mix well, turn off the flame
For seasoning:
Heat 1 tbsp of sesame oil

Splutter ½ tsp of mustard seeds, cumin, urad dhal, ¼ tsp of pepper, crushed garlic, 1 Kashmiri red chili,

and then turn off the flame, now add few curry leaves, A pinch of asafoetida,

Pour this mixture into the dhal and mix well, It is done

Serve this paruppu with rice with the dash of ghee
Stepwise Picture Recipe for paruppu | dhal: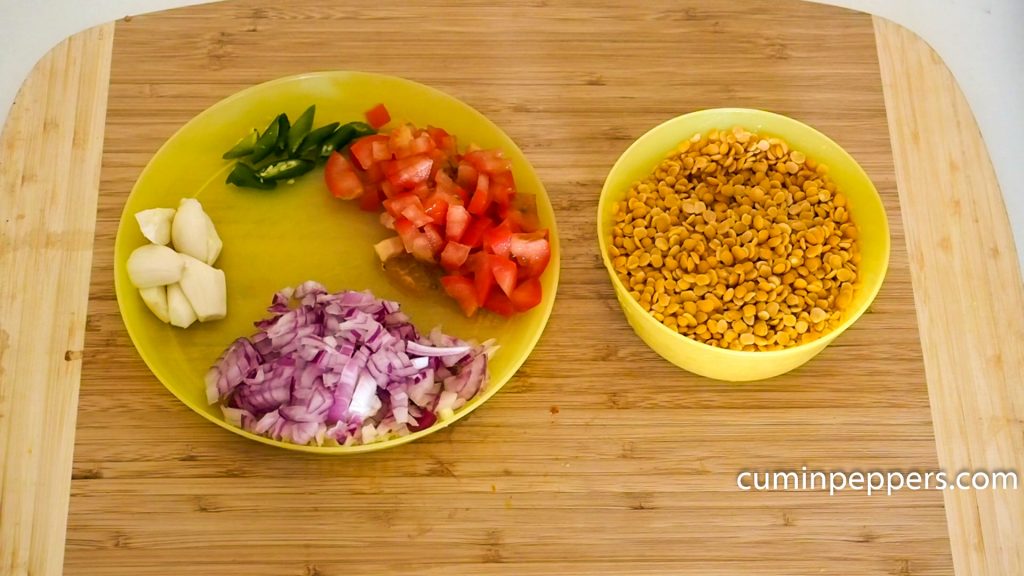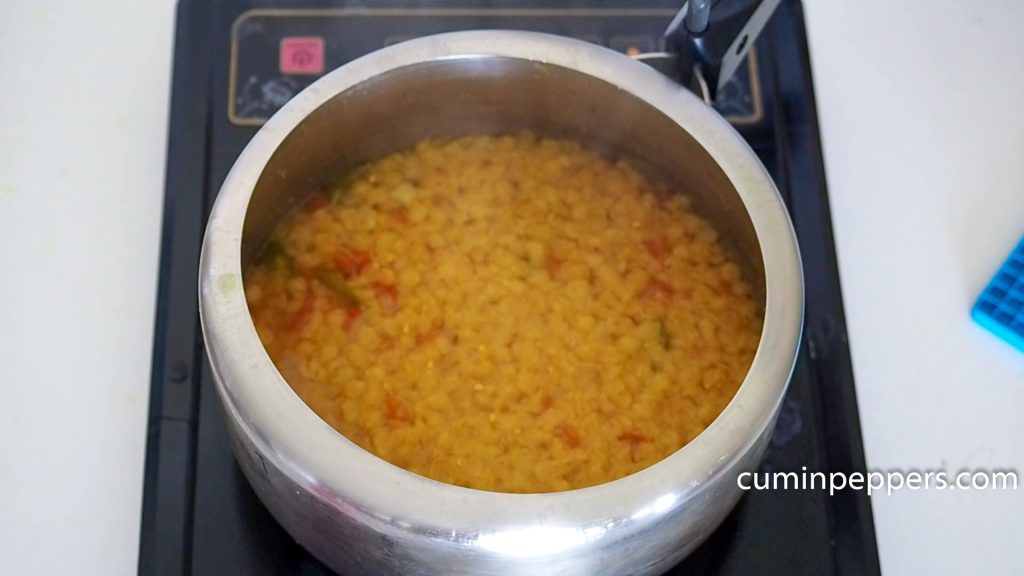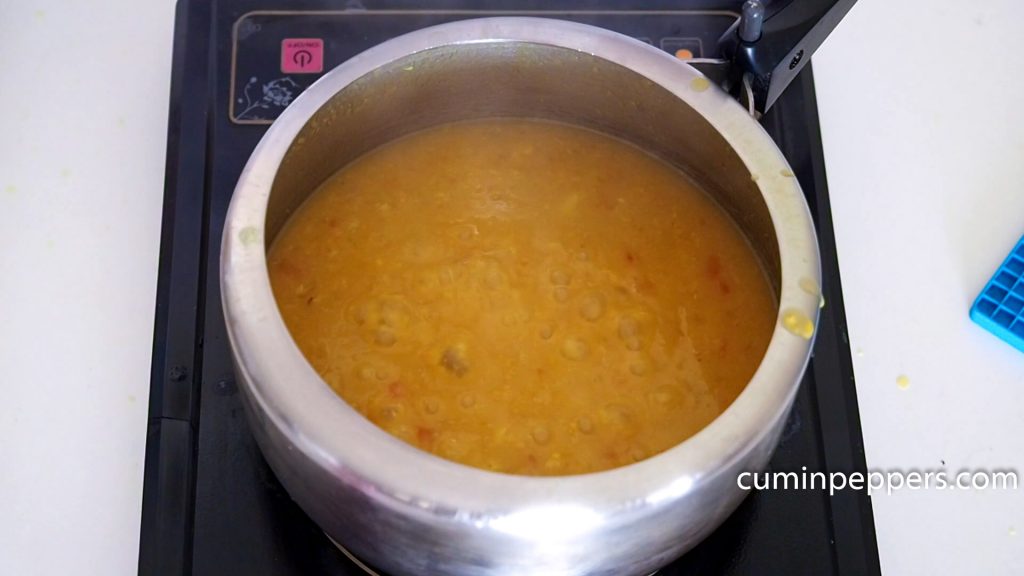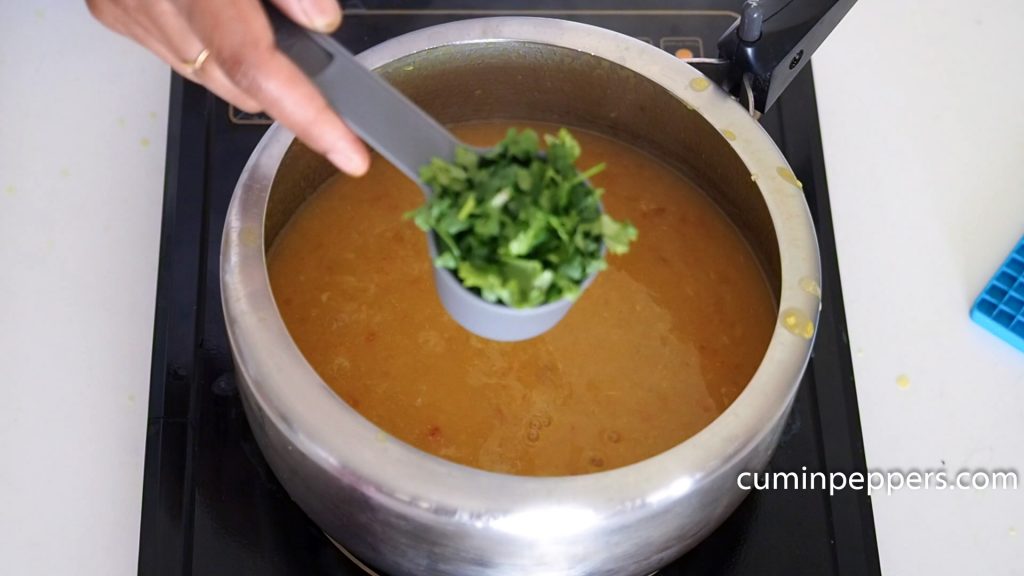 for tempering: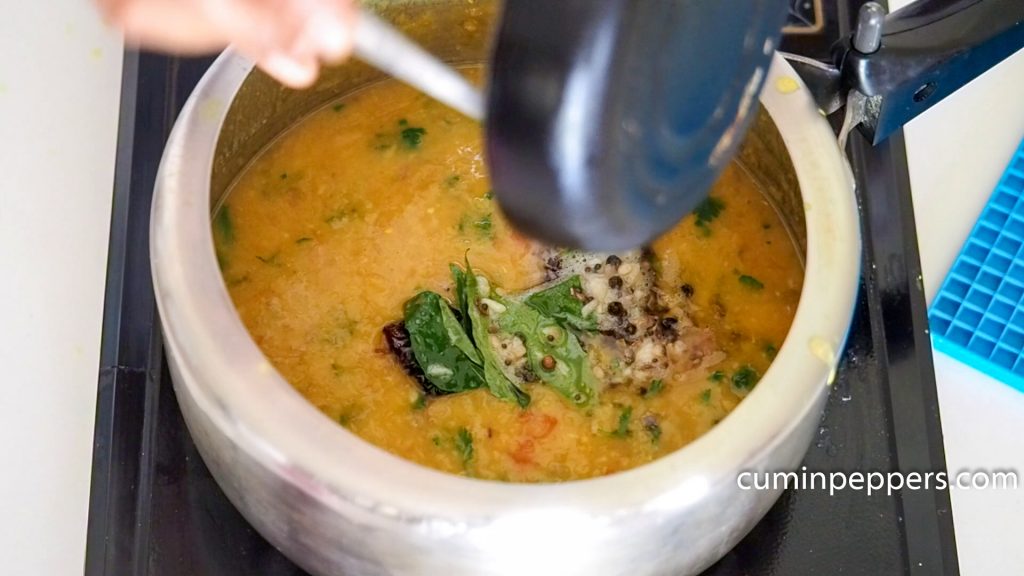 Now the paruppu | dhal is ready. Serve this dal dish with hot rice with dash of ghee. You can use it for rotis too.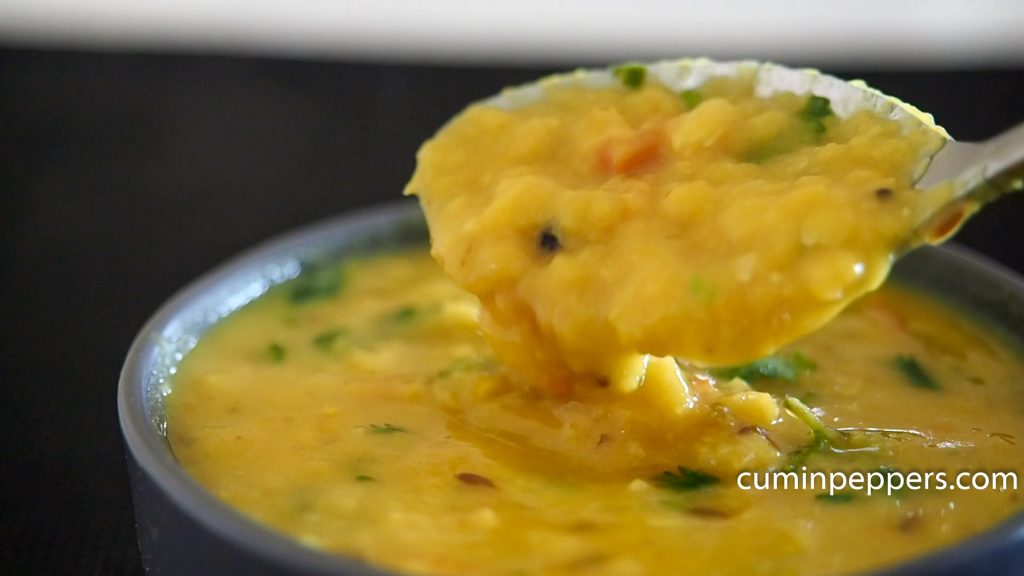 Note:
Do not skip garlic and asfoetida for recipes.
Along with this recipe(paruppu | dhal) , Also, check out,
And also, follow us on,