Akkaravadisal is a kind of sweet pongal, differs in the method of preparation from normal sweet pongal / sarkarai pongal. It is a combination of raw rice, Moong dhal, milk, jaggery, ghee and cardamom. It would be sweeter than normal pongal and tastier too.
For making this(Akkaravadisal) pongal as a neivedhyam, we can add a bit edible camphor or few thulasi leaves
The main thing in making of this type of pongal is
cooking rice and dhal in milk,
adding ghee lavishly
So this pongal turns out delicious and yummy.
Let us see how to make Akkaravadisal
Recipe cuisine: South Indian
Category: dessert
Preparation time: 5 minutes
Cooking time: 20 minutes
Serves: 4
Ingredients for Akkaravadisal:
Raw rice – 1/2 cup
Moong dhal – 2 tbsp
Milk – 2 1/2 + 1/2 cups
jaggery – 11/2 cup
Ghee – 1/4 cup + 2 tsp
Cardamom powder – 1/4 tsp
Cashews – 8
Raisins -10
Preparation method for Akkaravadisal :
1. In a pressure cooker, add the moong dhal and fry it for 5 minutes till it gets golden color
2. Transfer the fried dhal in a bowl, add 1/2 cup raw rice, wash it thoroughly
3. Add both rice and dhal into pressure cooker, add 2 1/2 cup of milk into it
4. Pressure cook for 5 whistles. (Keep the flame high till the first whistle. Then reduce the flame to low for next 4 whistles)
5. Meanwhile fry the cashews and raisins in 2 tsp of ghee, (first put the cashews in the ghee, when it is half done, put the raisins and switch off the flame, mix it well, raisins swell in the ghee)
6. Take the jaggery in a pan, add 1/4 cup of water and heat it, mix it to melt, and keep aside
7. Once the pressure releases in the cooker, open the lid and mix well. Mash it with ladle.
8. Add remaining 1/2 cup of milk and mix well, keep the flame on, (medium flame)
9. Strain the jaggery straight away in the cooker and mix well
10. Add fried cashews and raisins
11. Put few thulasi leaves or edible camphor finally ( This step is optional)
now the pongal (Akkaravadisal) is ready
Stepwise Picture recipe for Akkaravadisal: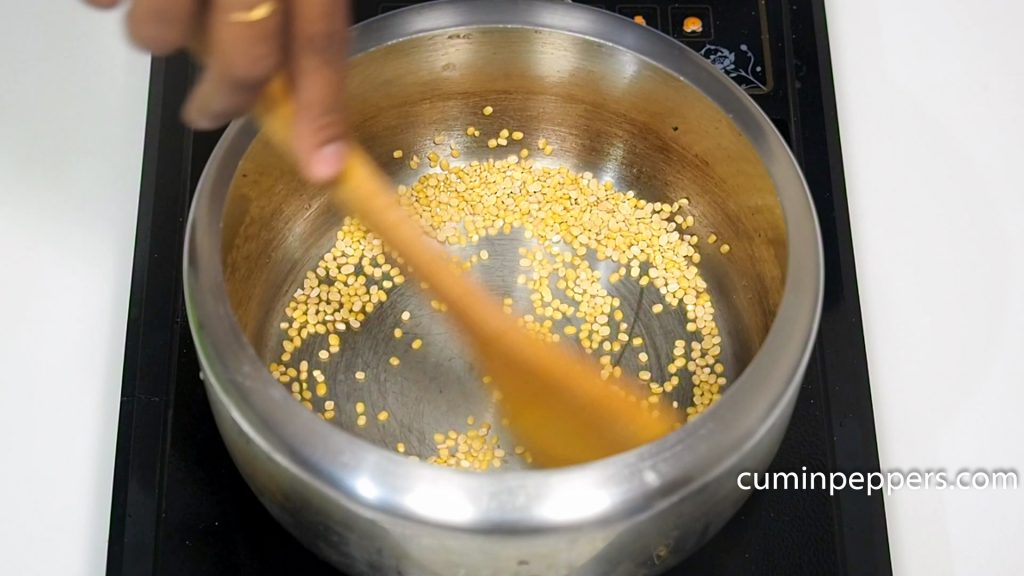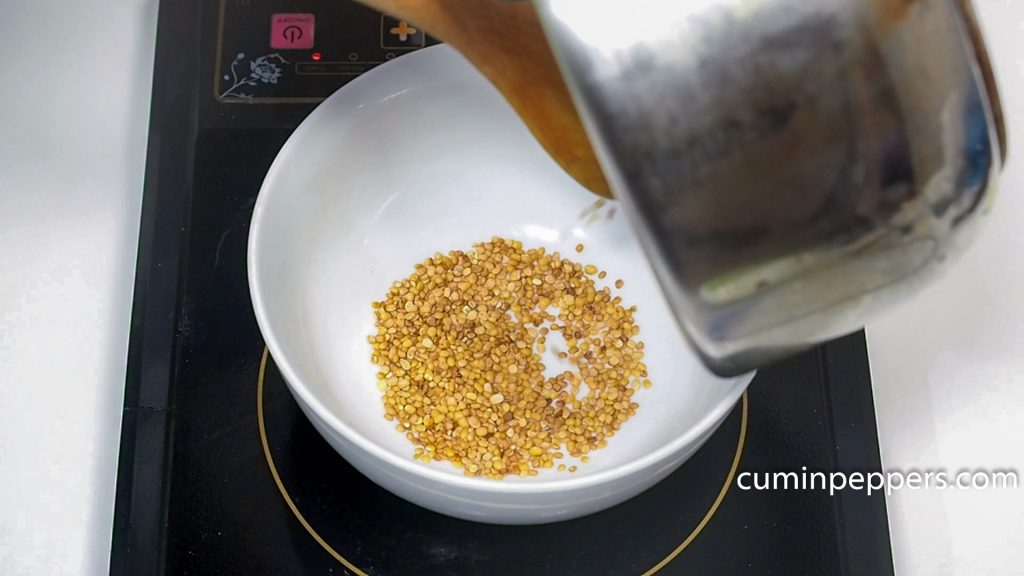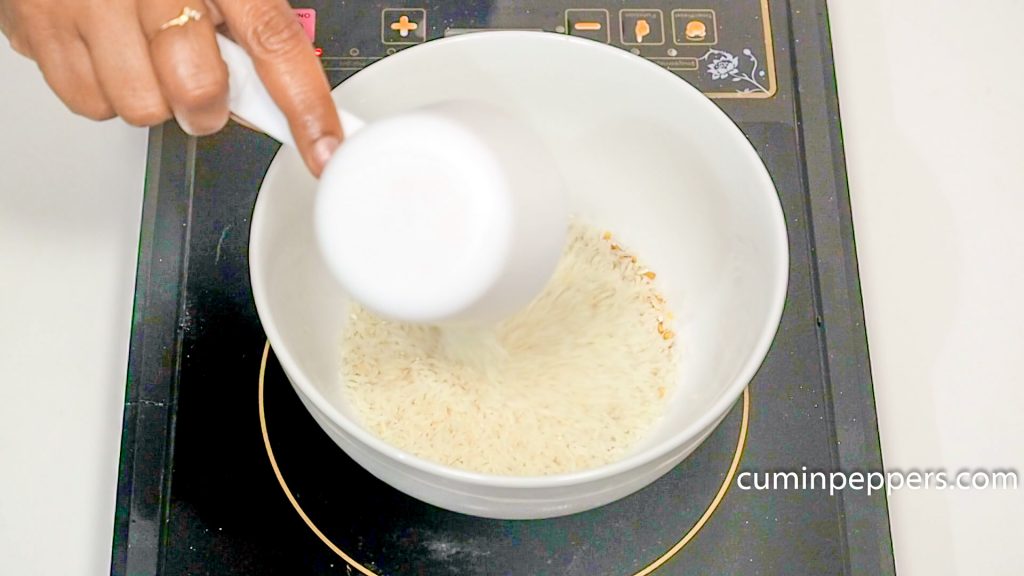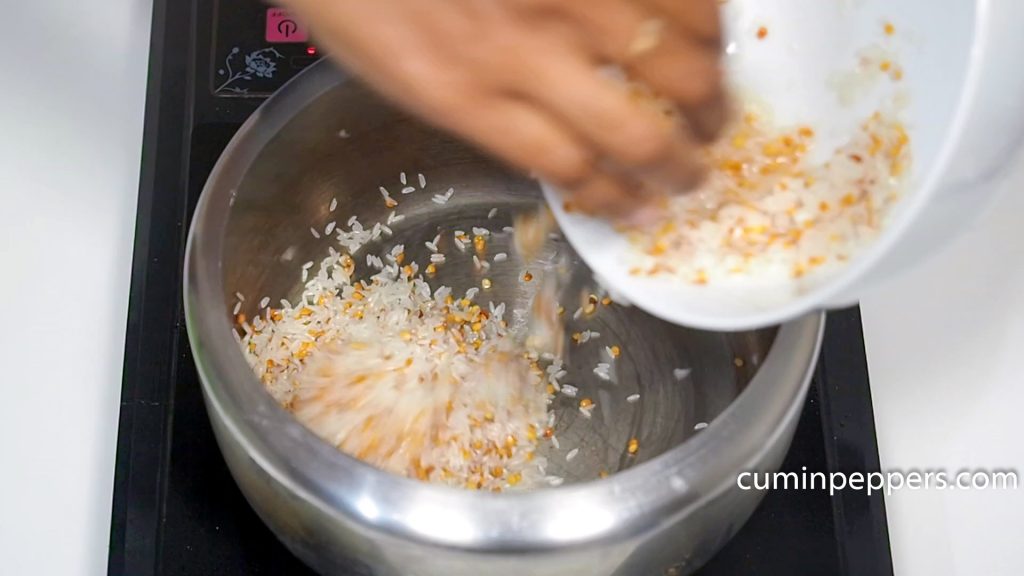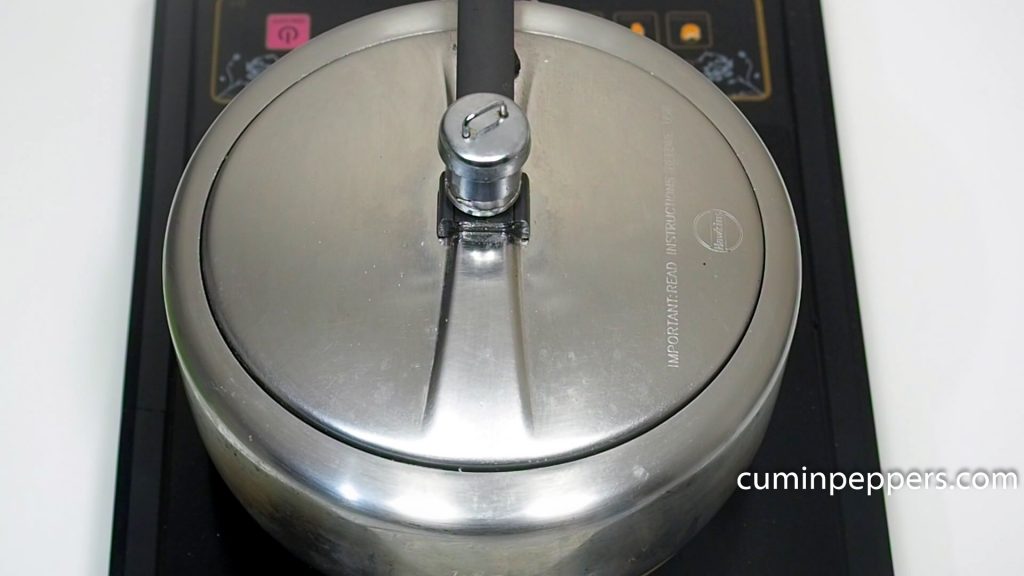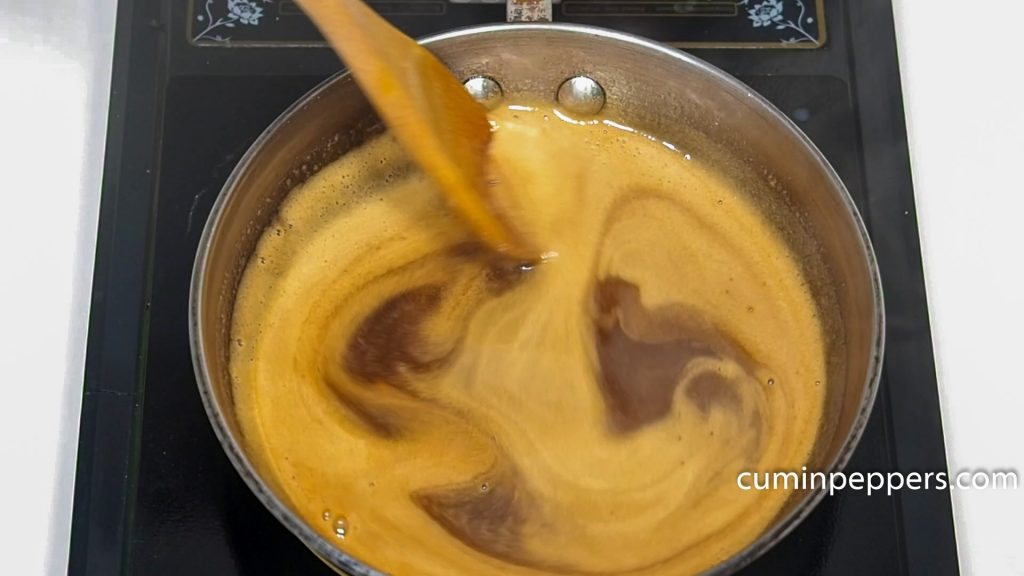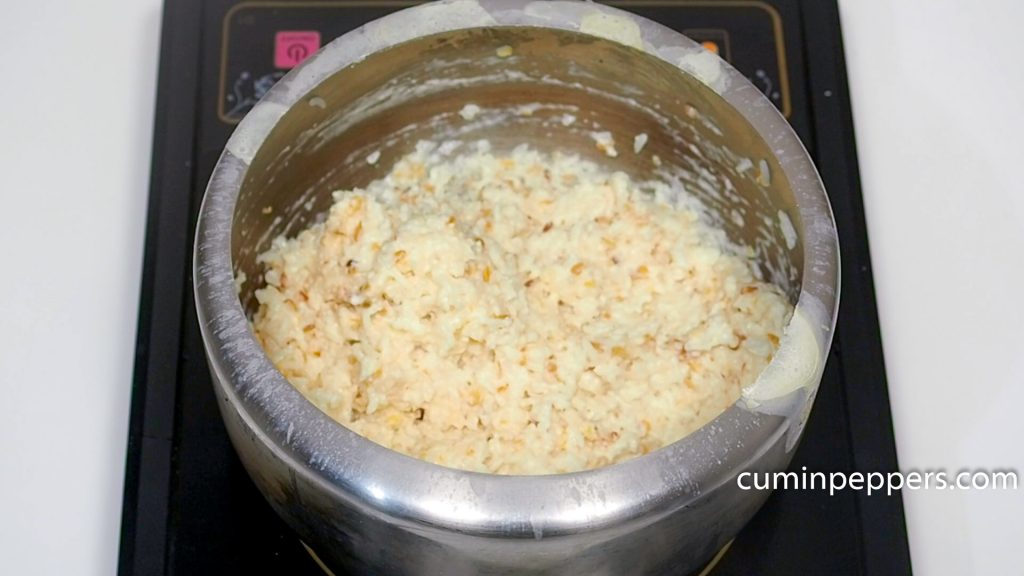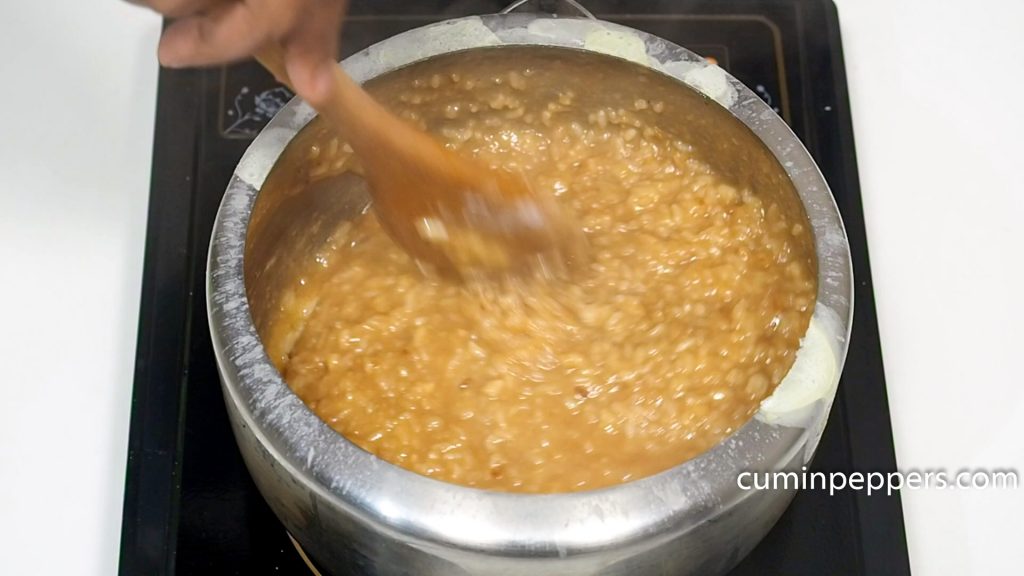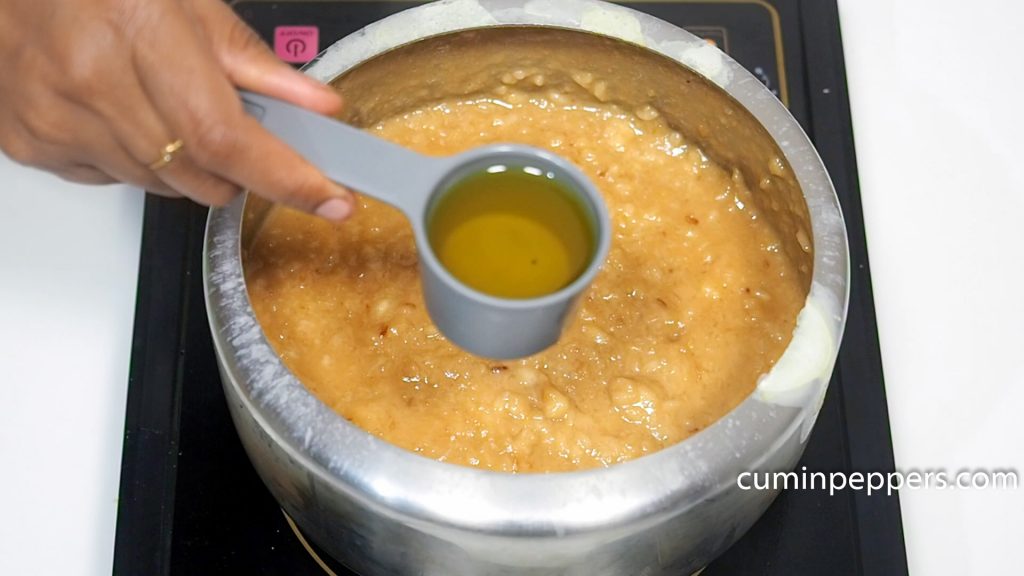 Now the Akkaravadisal is ready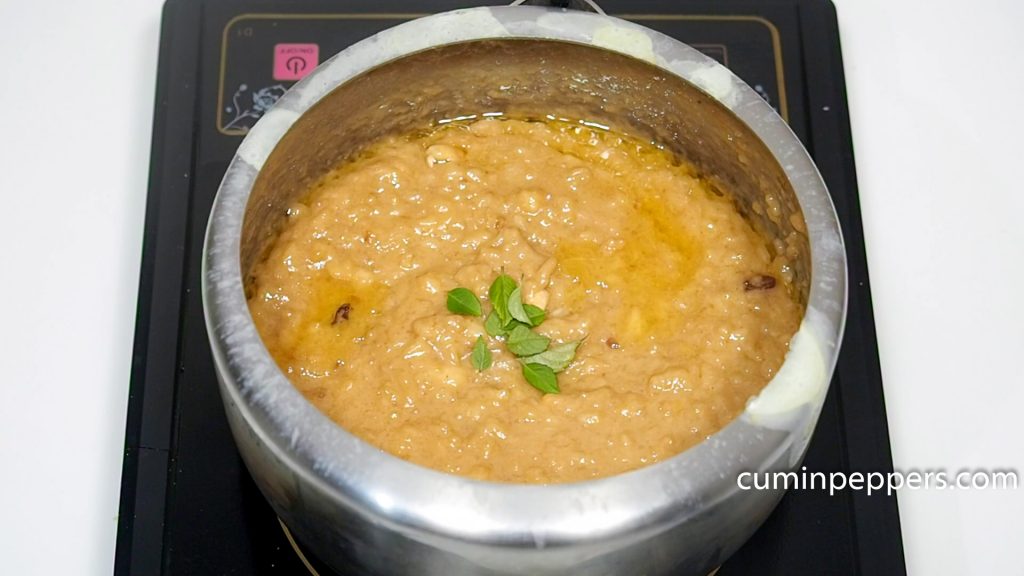 Along with Akkaravadisal recipe, you can also check out,