mysore pak is a famous south Indian dessert. The origin of this sweet is Mysore in Karnataka. In the 18th century, a cook named, Kakasura Madappa made a soft pagh using ghee, gram flour, and sugar for king Krishnaraja Wodeyar in Mysore palace. The mixture of gram flour and ghee glowed like a bar of gold. The fudge-like sweet was presented to the king in Lunch. The King was delighted by the sweet and asked for a second serving. The King asked the name for the sweet; The cook said the first thing came to his mind that is Mysore Pagh. (sweet of Mysore) (Pagh means sugar syrup). As years pass, the pagh was changed into Pak
Here I presented the Mysore pak that looks thick in appearance but it will melt in the mouth. 20 years back, this kind of Mysore Pak is abundance in shops. Everyone will prepare this kind of Mysore pak at home for festivals, weddings.
Let us see how to make it.
Mysore Pak
Ingredients
1

cup

gram flour

1¼

cup

sugar

1

cup

ghee (clarified butter)

½

cup

water
Instructions
Keep ready a container overlaid with butter sheet or greased with ghee

Take 1 cup of gram flour in the pan, dry fry it for 5 minutes in medium flame to get rid off the raw smell of the flour.

Transfer the flour into the plate

In the same pan add 1¼ cup of sugar and ½ cup of water

Boil this mixture till it reaches the 1 string consistency

Then add the roasted gram flour in batches by stirring ( if you are not confident enough to stir completely without lumps when the flames on at this step, Just switch off the flame still it well till the gram flour completely mixed with sugar syrup)

Add ghee meanwhile, keep on stirring in low flame

At one stage the gram-sugar mixture leaves the pan. keep stirring in low flame and add ghee in regular intervals

When you finish the ghee, keep stirring slightly increase the flame to medium flame

The gram flour-sugar mixture froths, at this stage switch off the flame

Transfer the mixture into a container overlaid with butter sheet (or greased container)

Allow it to sit for 15 minutes

Invert the pan on a plate, Mark the pieces of your desired shape using a knife

Allow it to cool for 1 hour then serve
Stepwise Picture Recipe: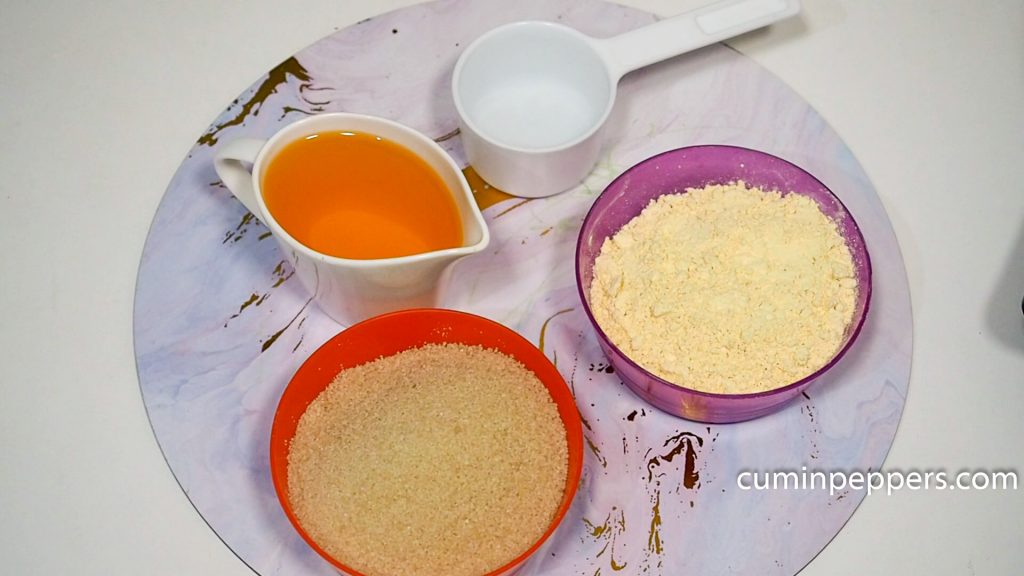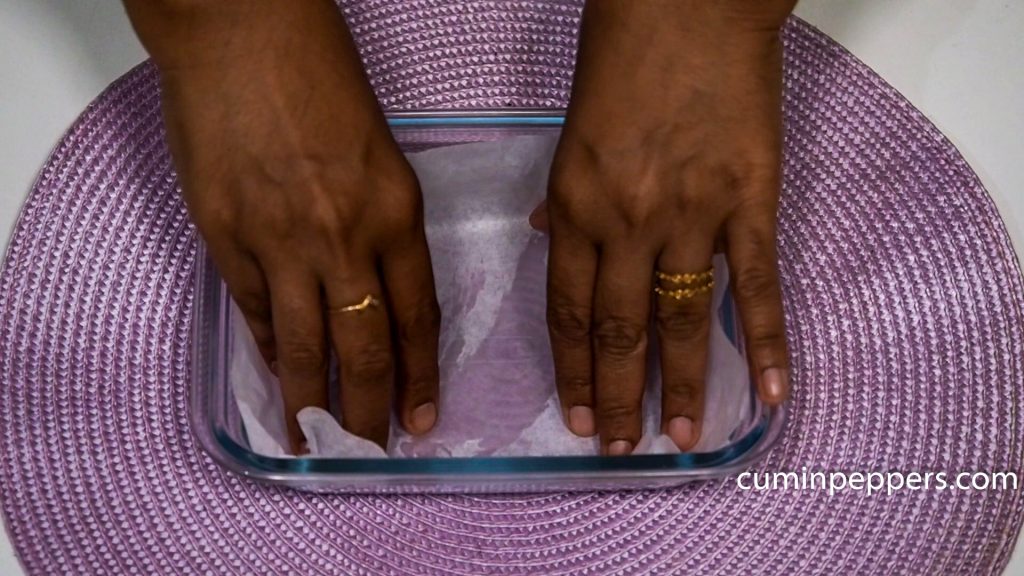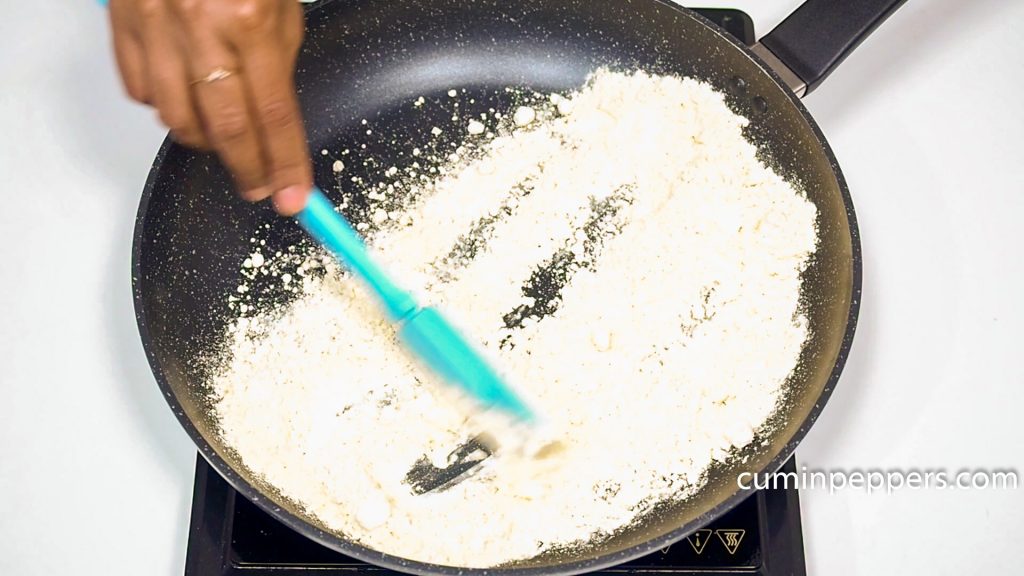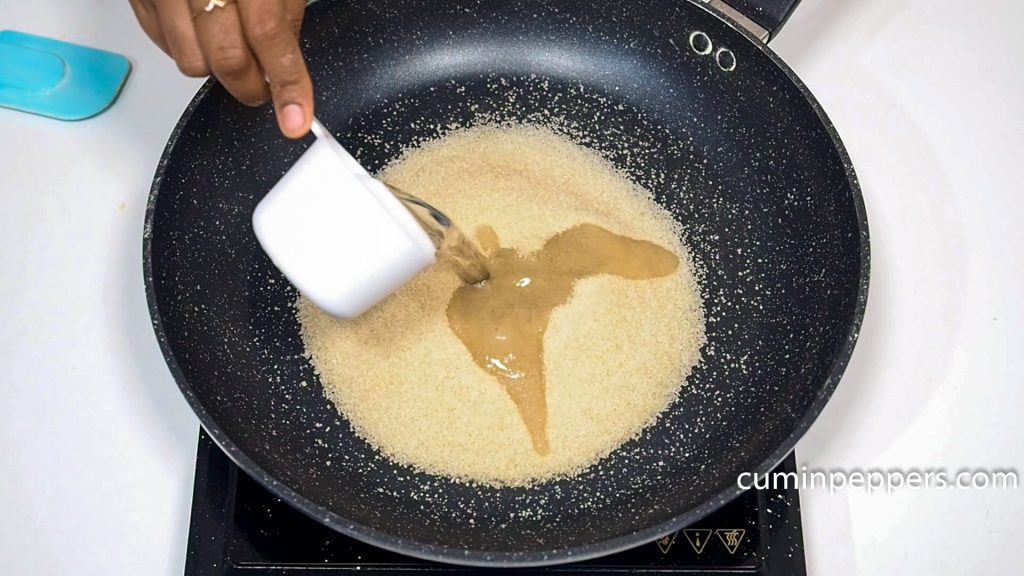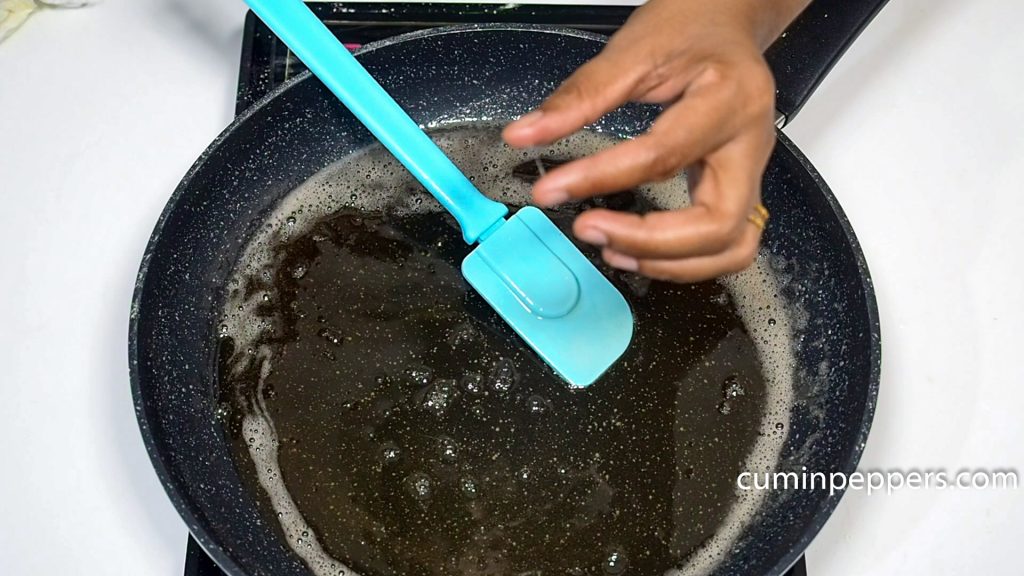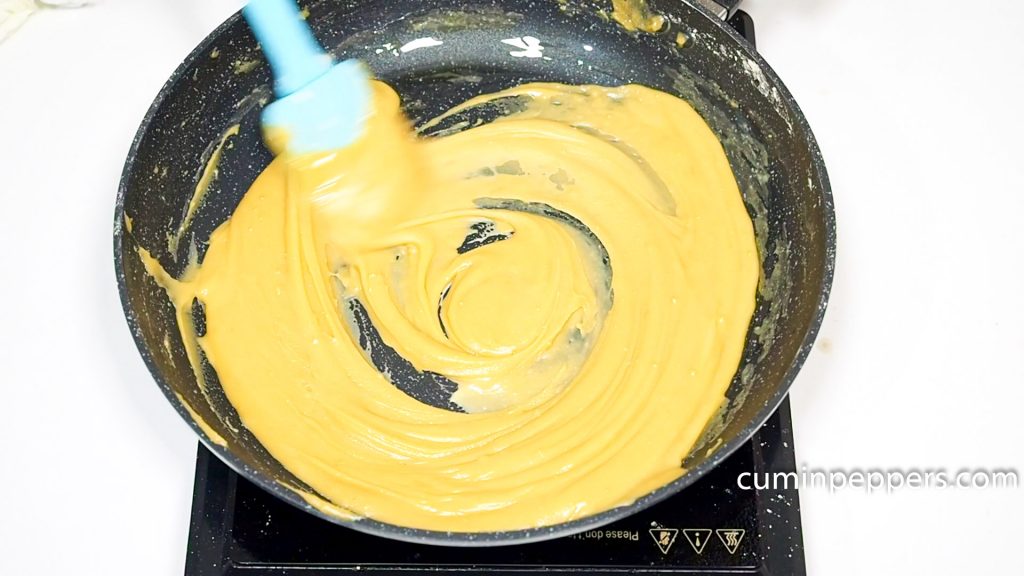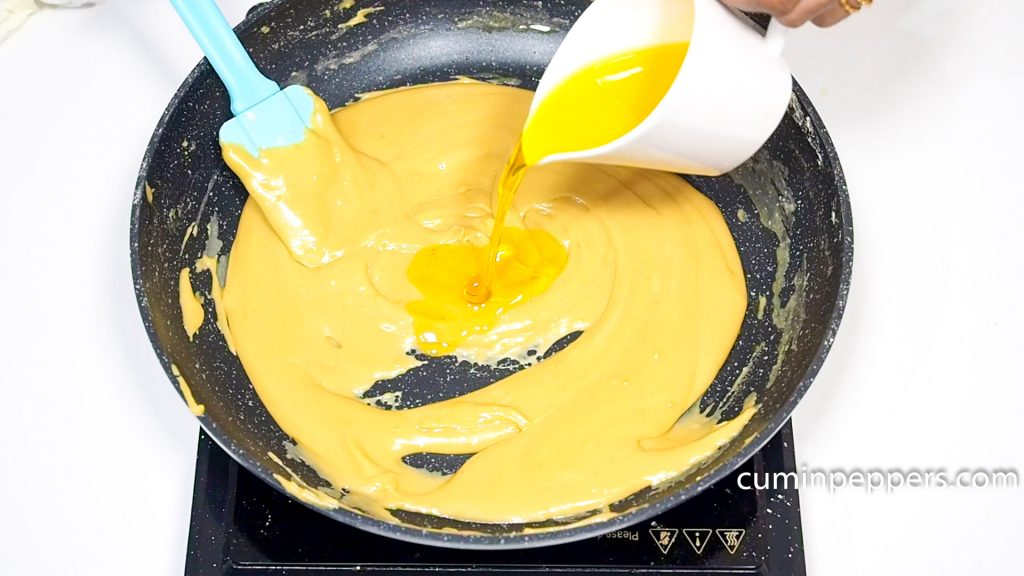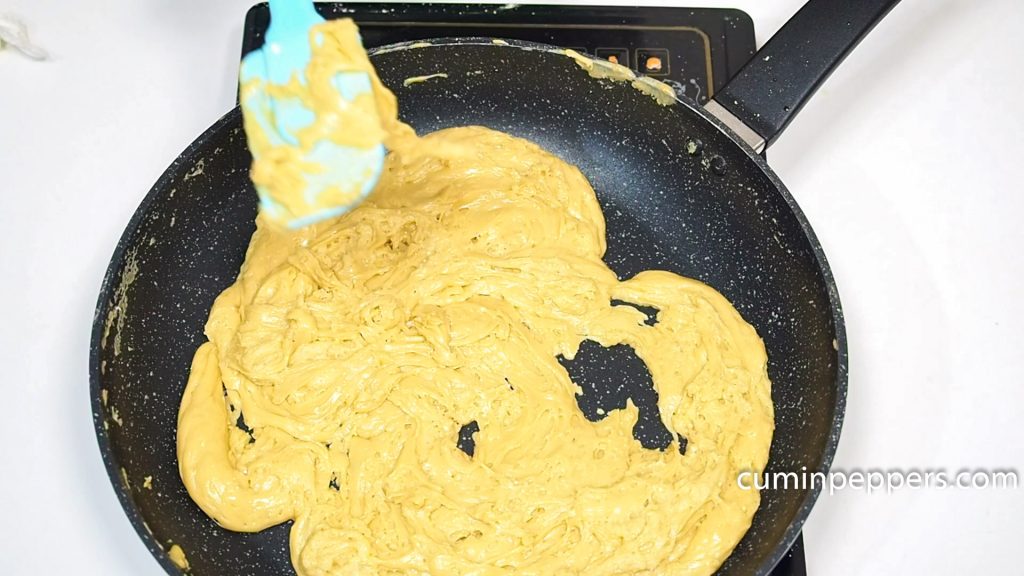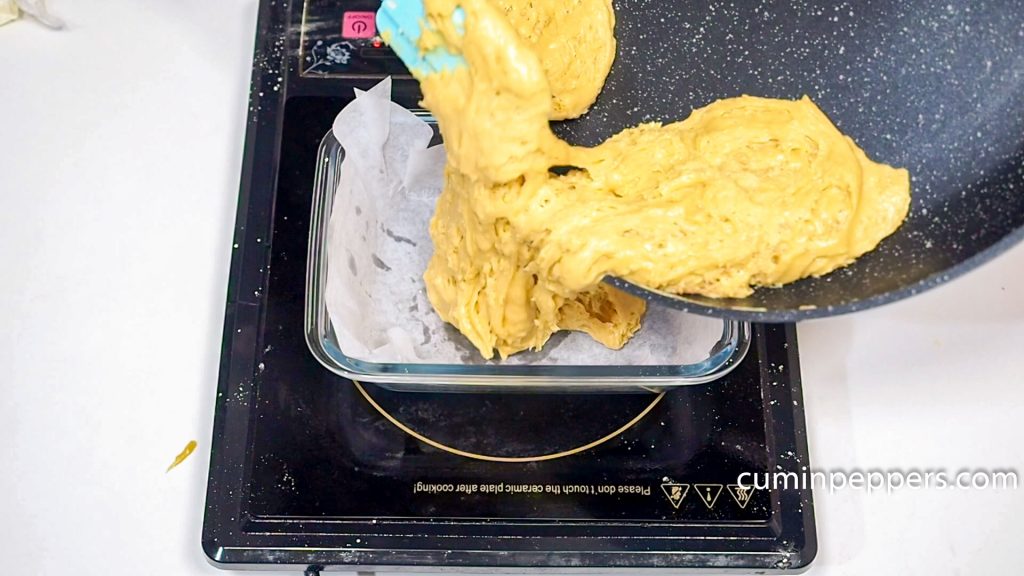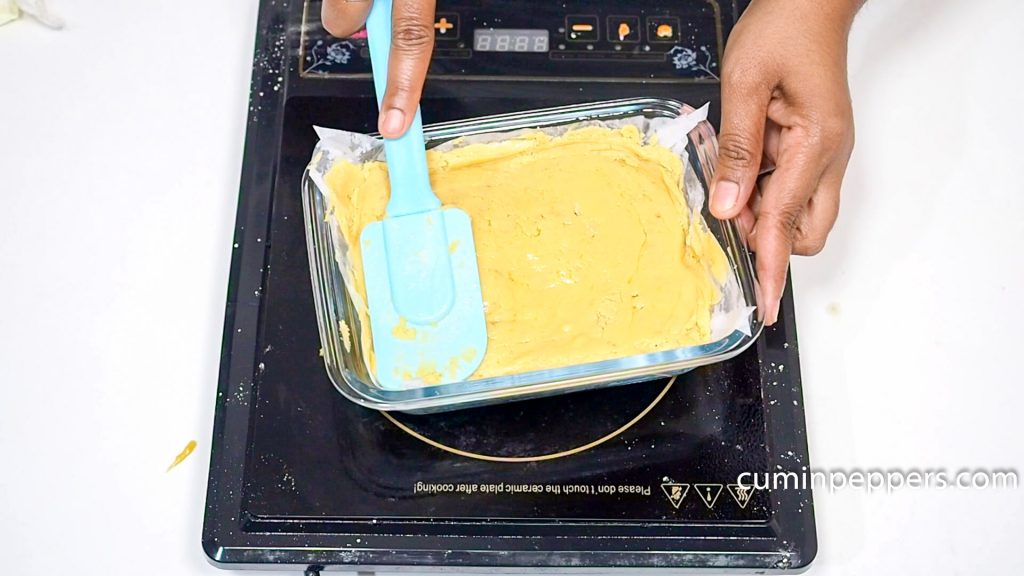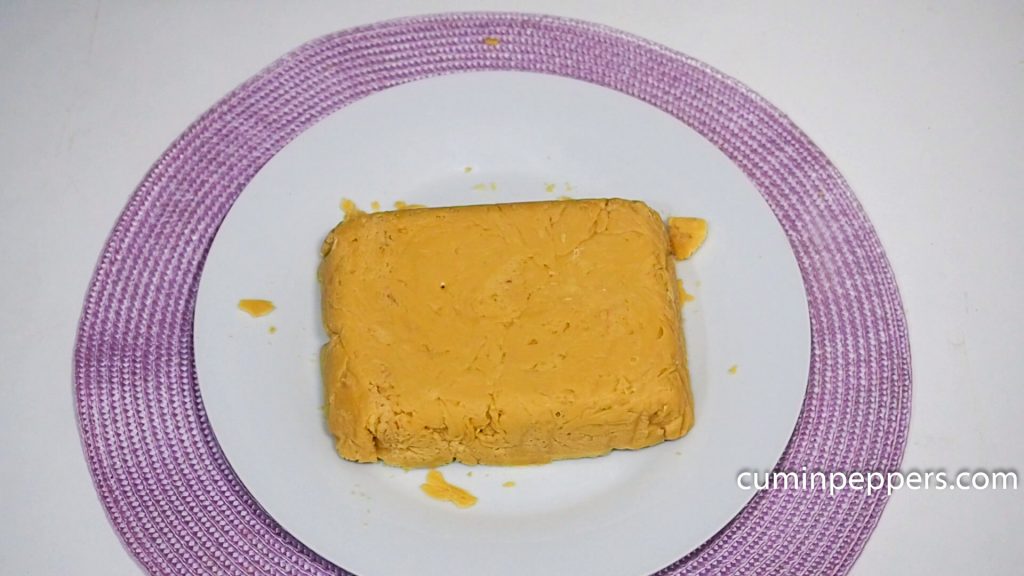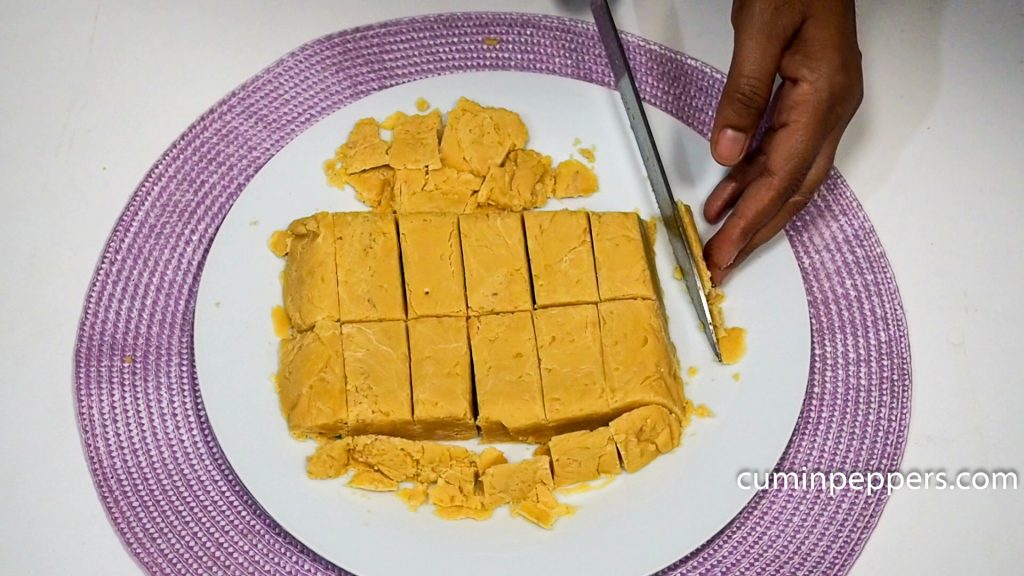 Note:
If you going to use a greased container instead of butter sheet overlaid container, Pour the mixture in greased pan, level it up nicely, allow it to cool for 15 minutes first and mark the pieces using a knife, then don't disturb it for 1 hour, after it gets completely cooled take off the pieces
While leveling the upper layer after pouring into the container, you can use a few drops of ghee on the spatula as well as on the mixture to smooth moving
After preparing the sugar syrup, you can switch off the flame, then add gram flour slowly by stirring, when you are done the mixing, you can turn on the flame. this is for beginners
While checking the sugar syrup, you need not test using the finger to see the consistency right from the mixture boils. just bring up the mixing spatula from the pan if you see the syrup falls down like a string (it shouldn't drip)you can start testing using a finger (see in this picture)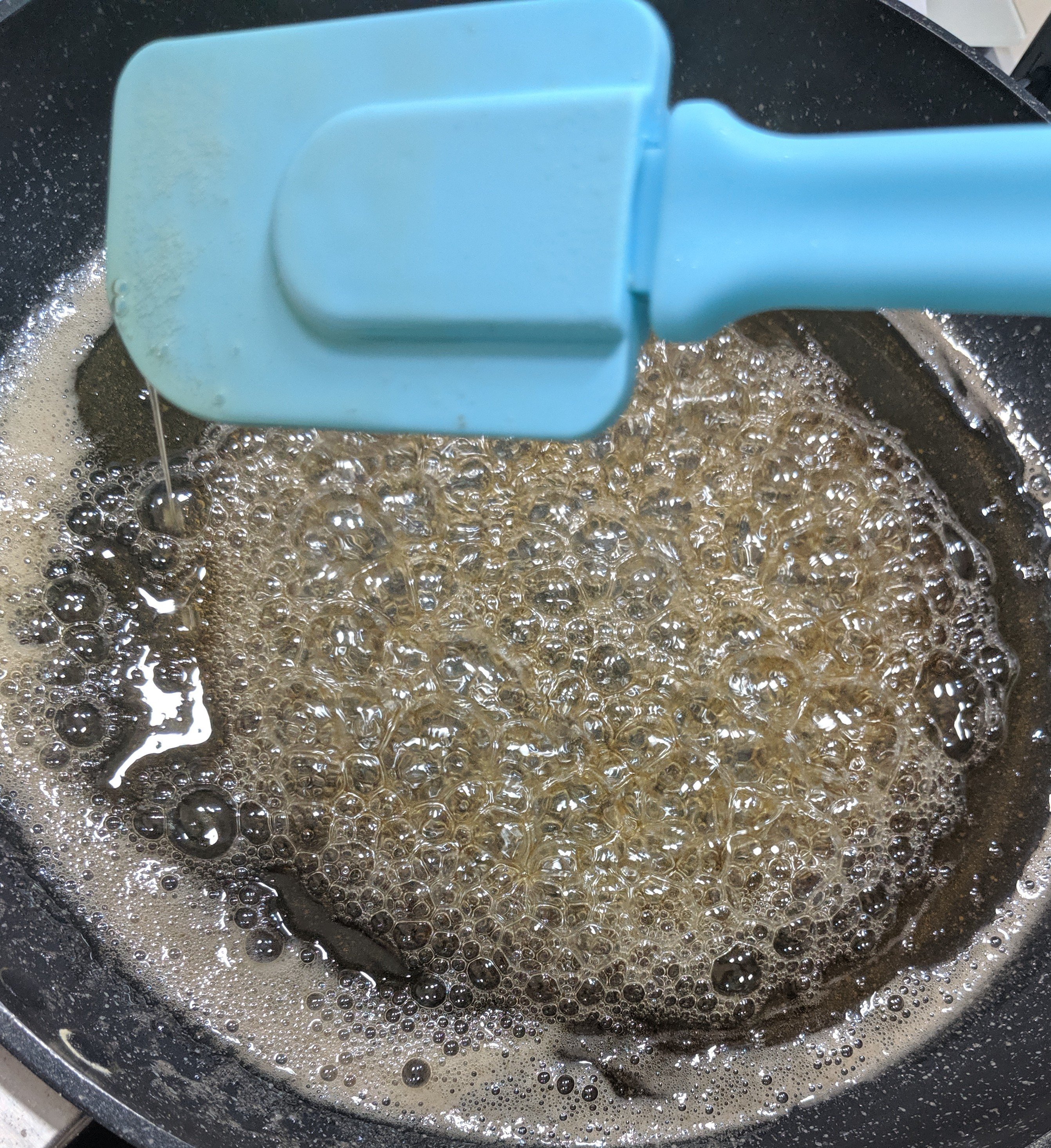 While you check the consistency in your finger, the string shouldn't break in the half of the way when you stretch.
I have used ghee in 5 regular intervals
If you want to make soft Mysore Pak, finish the process before it gets frothy. When the mixture leaves the pan, starts thickens, turn off the flame. Transfer the mixture into the container
Always choose heavy-bottomed pan or nonstick pan to make Mysore Pak
and also, Follow us on