badam burfi | kesar badam burfi, Burfi is the derivative word of a Persian word 'barf' which means snow. This thick dense sweet can be prepared with milk or without milk. There are so many varieties of burfis. Most of the Indian festivals, here I prepared badam burfi | kesar badam burfi with milk. Badam (almond), milk, saffron would be an always good combo. so choose kesar and milk to make this dessert.
Let us see how to make it.
badam burfi | kesar badam burfi
Ingredients
1

cup

Almonds(badam)

1

cup

sugar

½

cup

water

½

cup

hot milk

¼

tsp

saffron

¼

tsp

cardamom powder

1

tbsp

slivered almonds

1

tsp

ghee

(1 or more tsp of ghee)
Instructions
Take ½ cup of hot milk, add in ¼ tsp of saffron

Boil the water, put the almonds, then switch off the flame, let it soak in hot water for 1 hour

Keep the greased container or greaseproof-paper overlaid container ready

After 1 hour, remove the skin, keep the almonds over paper towel or cotton cloth

wipe off the moisture from the almonds

transfer the almonds to a blender jar

Blend it nicely, keep aside (cant blend it fine powder, but blend it fine as possible you can).

while blending, just give a pulse for 10 seconds, and open the lid mix it with spoon, then do the same till you blend

In a pan add 1 cup of sugar and ½ cup of water, then turn on the flame,

heat it till it reaches 1 string consistency

Then add ground almond, and saffron milk, mix well. (without any lumps)

Add ghee at the stage when you feel too hard to stir

when the mixture get thickens, Add cardamom powder and slivered almonds, mix well

Stir well in low-medium flame. At one stage the mixture leaves the pan, gathers together, holds the shape, that is the stage you must turn off the flame

Transfer the mixture on the to grease-proof overlaid container, spread evenly

mark the pieces after 15 minutes

leave it undisturbed for 1 hour. then serve
Stepwise Picture Recipe: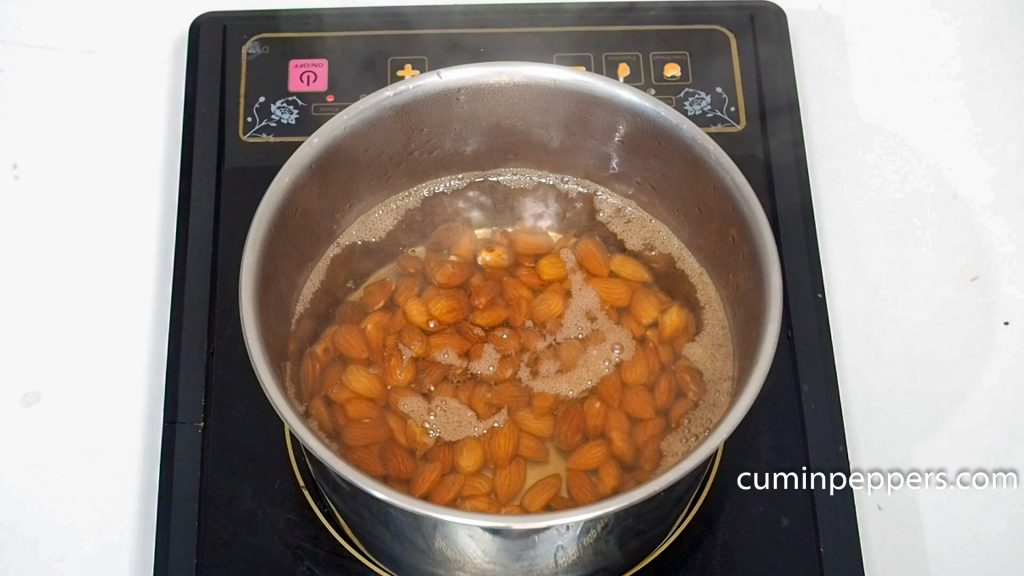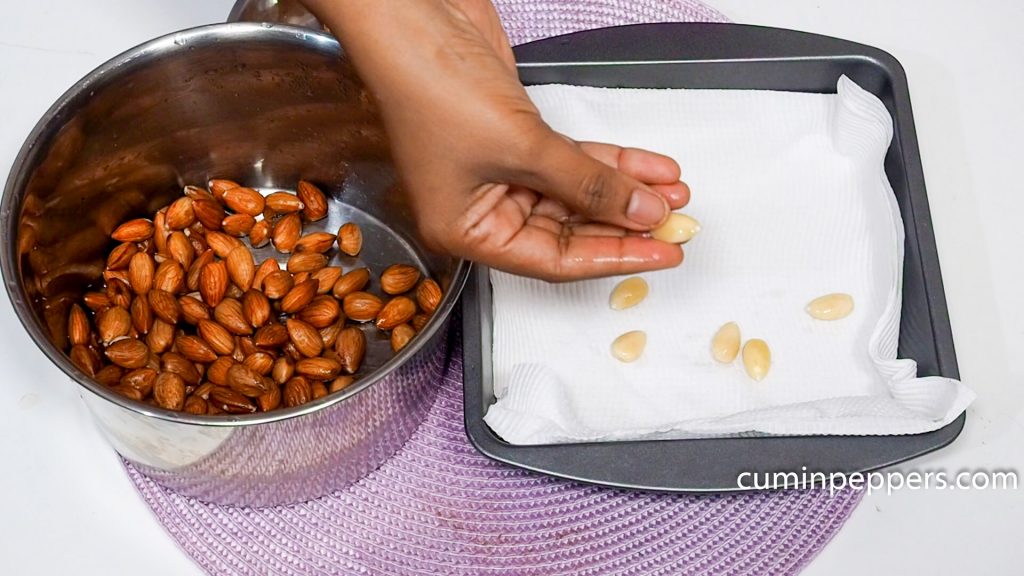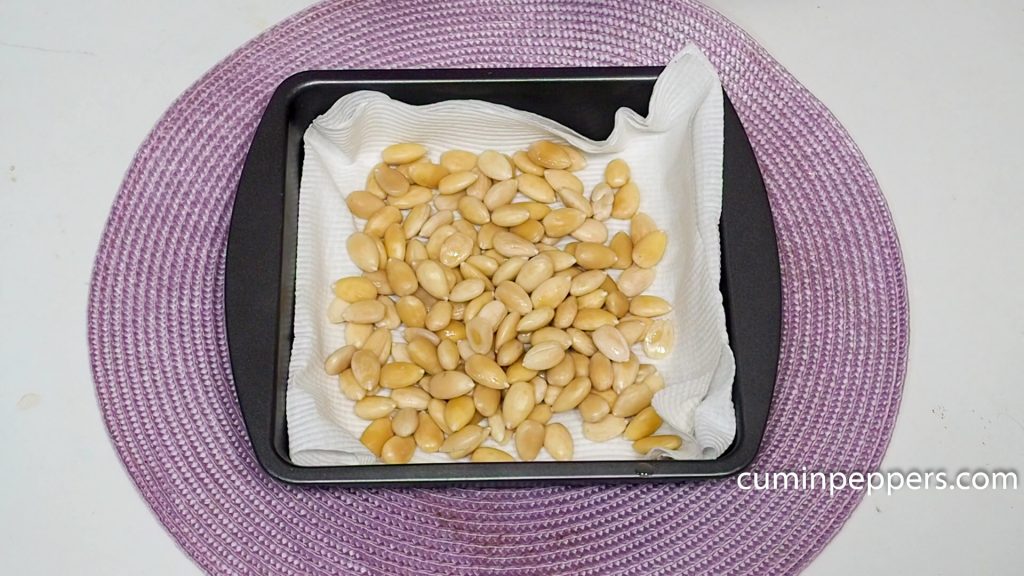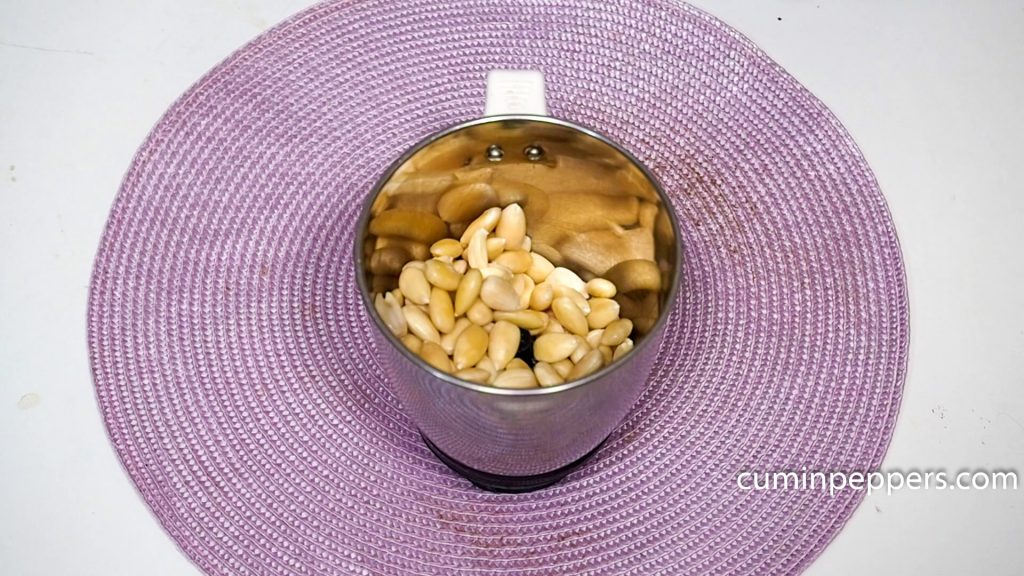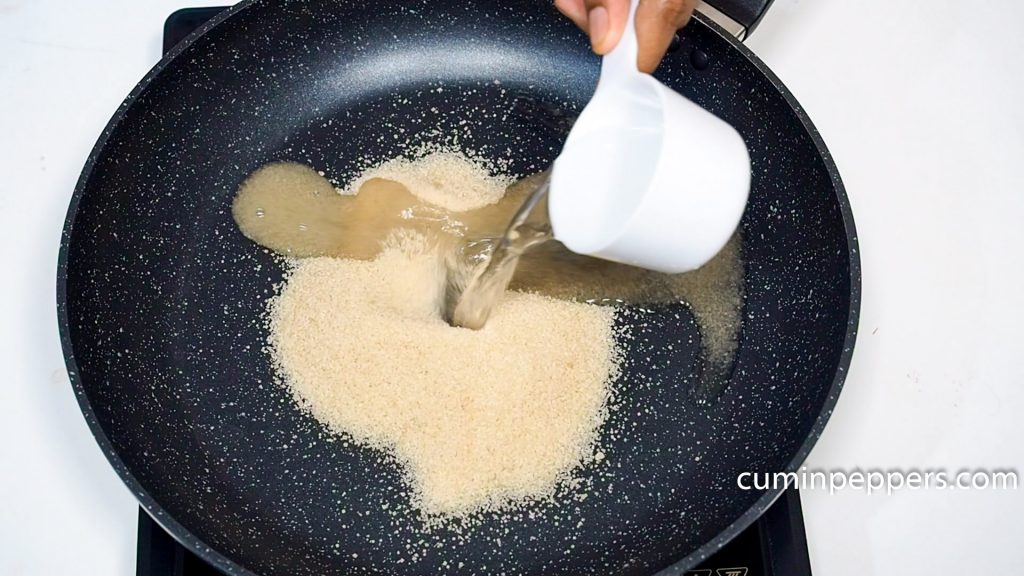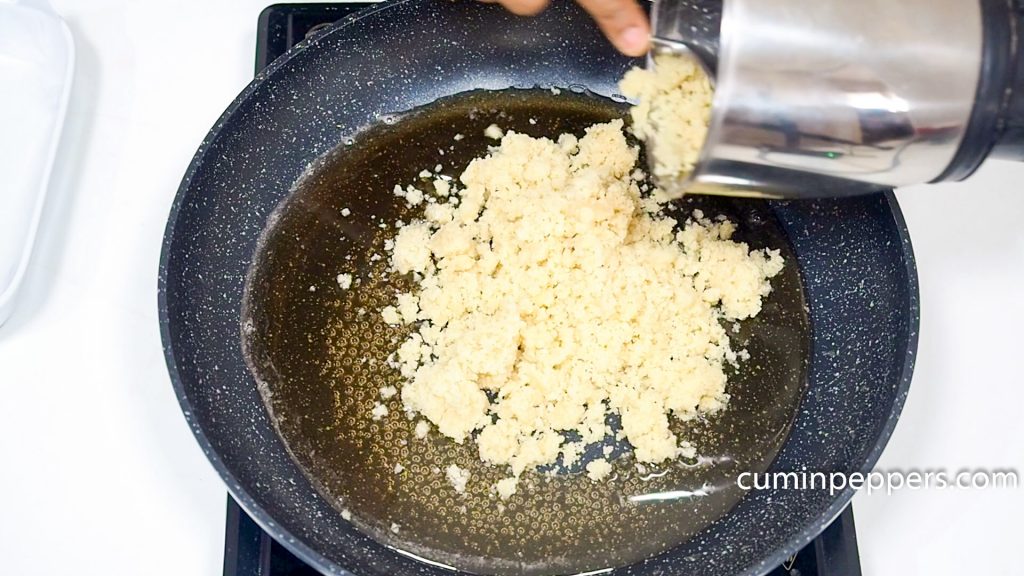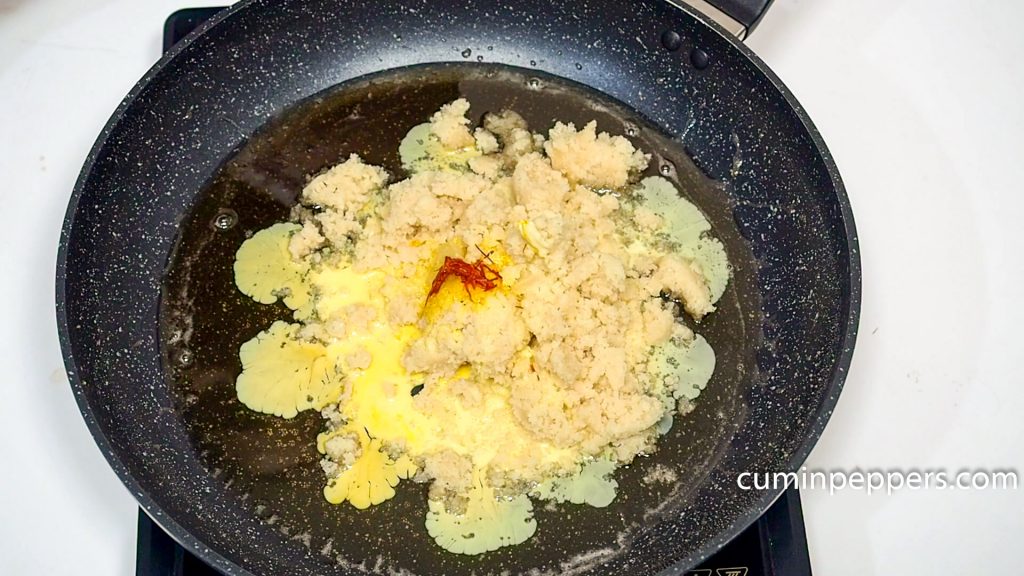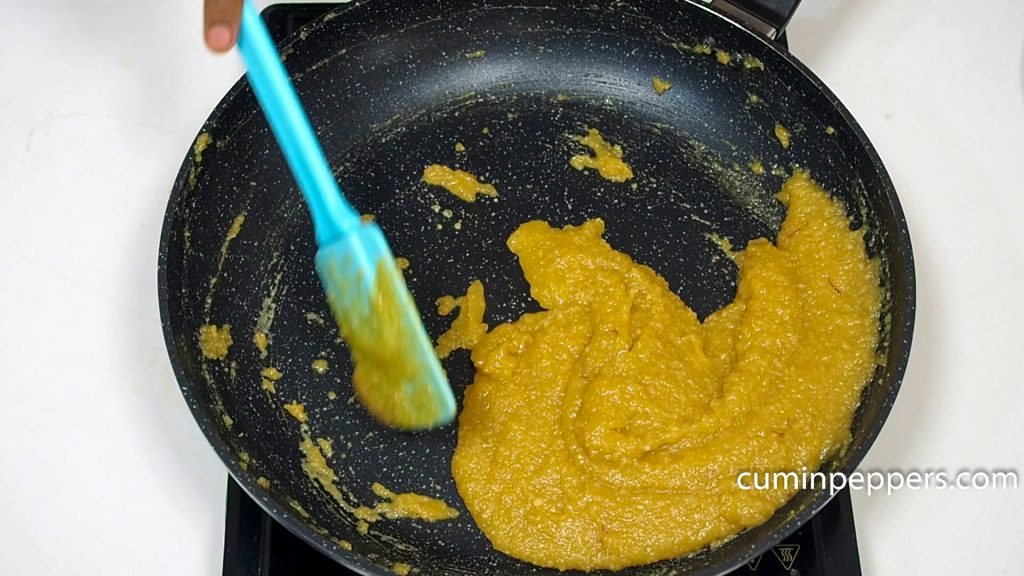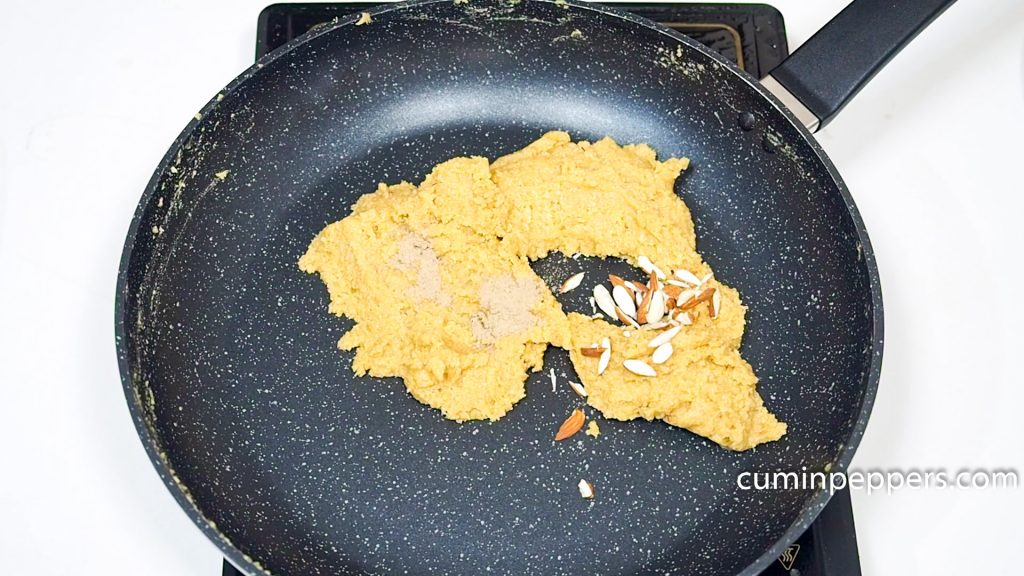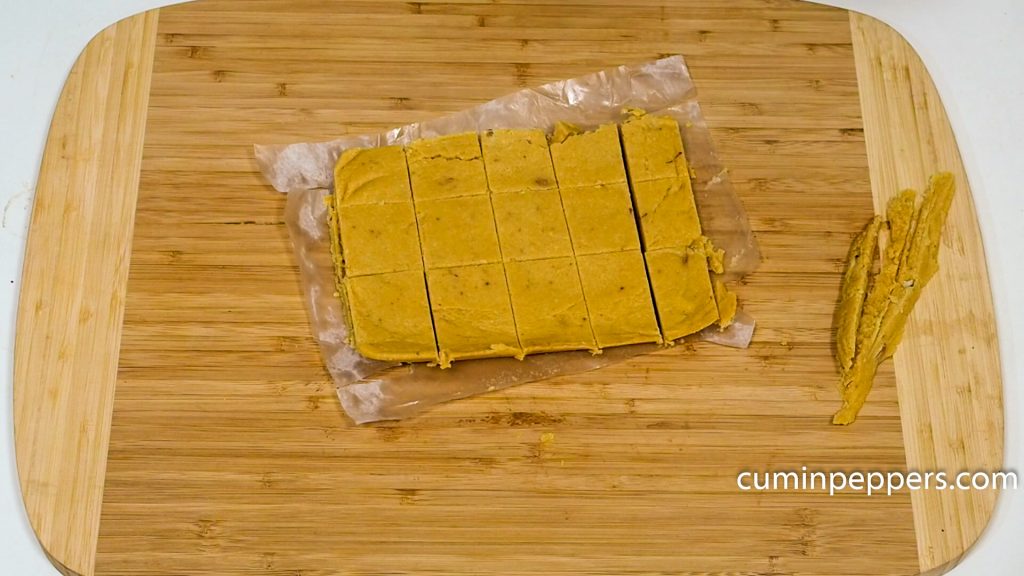 Note:
while grinding the almonds, wipe off the moisture well, it makes it blend it easily
An alternate method of blending: you can blend the almonds with the saffron milk easily to get smooth texture almond paste. (you need not wipe off the moisture from it in this method) As I want the saffron strands to be visible in the burfi, I blend the almonds separately.
Ingredients alteration: You can skip the saffron, you can blend milk and almond together, in that case, add 1/2 tsp of cardamom powder
pan for making burfi: use a heavy-bottomed pan, or non-stick pan making burfi when you use a heavy-bottomed pan, you need more ghee
If you are using greased container instead of greaseproof-paper, mark the pieces in the container, then allow it to cool for 1 hour, then take off the pieces
Even after 1 hour, if the mixture didn't solidify into burfi, don't worry, again reheat it in low flame for 5 minutes, then spread it over the container, then follow the step 13, 14, 15 again.
Also, check out,
Badam halwa
bottle gourd halwa
Follow us on